Mizpah Hotel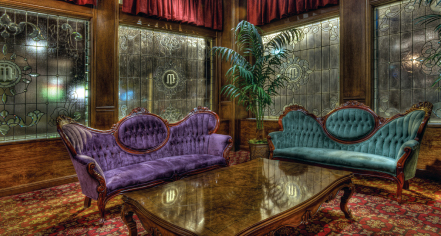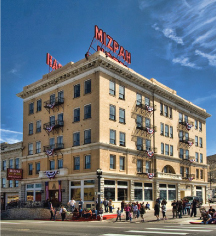 Local Attractions
Tonopah is home to one of the darkest night skies in the western states. A brief drive will reward visitors with a view of velvety, indigo night skies where the stars seem close enough to touch. The stars and the Milky Way sparkle like glittering diamonds nestled on blue-black velvet. It is a peaceful sight to see the heavens cloaked in such beauty.
Otteson Turquoise Mine Tour
Locally owned and operated by the Otteson family, the Royston Turquoise mine is a short distance outside of Tonopah. The Otteson family has been mining turquoise since 1964. Tours of the mine include lessons on digging and polishing turquoise, samples of which visitors keep. This is a fascinating experience that should not be missed when in Tonopah. Tours of the mine can be booked from April 1st to October 31st. Call 775-482-9889 for reservations.
The Otteson's turquoise shop is situated in the Mizpah Hotel lobby and features exquisite handcrafted jewelry. The shop is open Monday to Saturday from 10:00 AM to 7:00 PM.
The Tonopah Historic Mining Park
Built on the site of the original Mizpah Mine where Jim Butler discovered silver and struck his claim back in 1900, the Tonopah Historic Mining Park incorporates the sites of many other mines on the same property. The mining park is set up for self-guided walking tours or guided Polaris tours (reservation required). Visitors can explore the mine shafts, hoist houses, view the stopes, and walk down into the Burro Tunnel to experience, first-hand, what the miners felt as they descended the tunnels to bring out the buried precious metals during one of the richest silver strikes in Nevada's history. Call 775-482-9274 for hours of operation as the hours and days fluctuate with the seasons.
The Central Nevada Museum
Dedicated to the preservation of the rich, colorful history that are Nye and Esmeralda counties and their surrounding areas, The Central Nevada Museum offers a wide range of exhibits, including the deep mining culture, the former Tonopah and Goldfield Railroads, the history of how flight was affected by the developments of the Stealth Bomber and other planes developed and tested at the Tonopah Test Range, as well as the military presence that was once a great part of Central Nevada's make-up during World War II. Step back in time by walking through the outdoor exhibits of an old west town. Call 775-482-9676 for hours of operation.