Mohonk Mountain House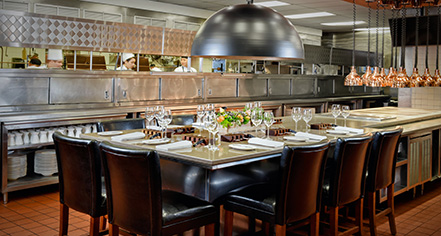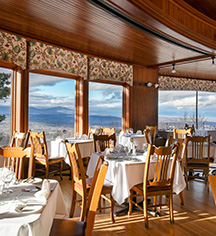 Dining
Each menu includes Sound Choice® items which appeal to health-conscious guests, as well as vegan, vegetarian, and gluten-free options. Kosher meals and allergy-alert menus are also available upon request.
Brunch: The Sunday brunch, served between 11:30 a.m. and 2:00 p.m., offers the best of both meals. Enjoy a spread of carving stations, salad bar, smoked salmon, jumbo chilled shrimp, a made-to-order omelet station, tempting desserts, and much more. Seasonal soup, coffee, tea, and soft drinks will be provided by the server, and alcoholic beverages are available for purchase.
Casual: Seasonally, Mohonk Mountain House will offer a casual, self-serve buffet in the Main Dining Room featuring carving stations, entrees, dessert selections, and more. There will also be a special children's buffet featuring kid-friendly food such as pizza, macaroni and cheese, hot dogs, and chicken tenders. Casual attire is appropriate for DinnerFest Buffet. Shirts and footwear required. Not acceptable are hats, tank tops, swimwear or running shorts, and ripped, torn or frayed clothing
Formal: On evenings when DinnerFest Buffet is an option, a traditional served meal is still an option in the East and West dining rooms. Jackets are required for gentlemen ages 12 years and older. Dress slacks or skirts, dress shirts or blouse and dress shoes required. Not acceptable are hats, athletic tank tops, swimwear, T-shirts, sneakers, sweat suits, running shorts, and ripped, torn, or frayed clothing
Holiday: For Easter, Mother's Day, and Thanksgiving a bountiful luncheon buffet full of culinary delights is prepared. Indulge in a wide array of cheeses, galantines and pates, smoked and cured seafood, salads, carved-to-order meats, hot specialties, and a host of desserts. There's no better way to celebrate the holidays than sharing a delicious meal with family and friends. Holiday brunch buffets are served from 11:30 a.m. - 3:00 p.m. on Thanksgiving, Mother's Day, and Easter. Reservations are required – please call (855) 883-3798.
Carriage Lounge: Located on the ground level between the East and West dining rooms, the Carriage Lounge offers light fare, beverages and alcoholic beverages for purchase. Perfect for intimate conversations, this upstate New York lounge provides an additional space for catching up with friends or spending time with loved ones.