Morris Inn at Notre Dame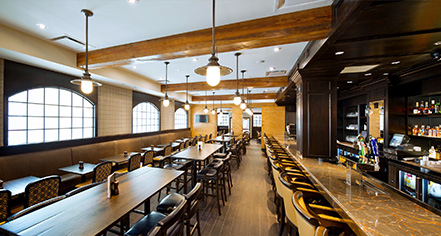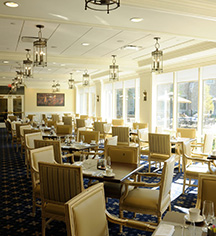 Dining
The Morris Inn at Notre Dame offers delectable dining options. A distinctive blend of classic elegance and relaxed casual, along with excellent service, great atmosphere, an exceptional wine list, and inspired cuisine – uniquely and creatively presented for the discerning palate.
For fine dining, Sorin's is open for breakfast and lunch, from 6:00 a.m. until 2:00 p.m. daily, and dinner, from 5:30 - 9:30 p.m, Tuesday to Saturday. Besides its beautifully appointed dining room, Sorin's offers an intimate private room for groups of up to 14 guests in the Quinn Family Room. Serving a fresh selection of seafood, Sorin's also features selections from the wineries of Notre Dame graduates. Morris Inn's monthly Wine Dinners showcase an esteemed alumnus working in viniculture. It is a unique opportunity to hear about their time at Notre Dame, and to learn about their winemaking traditions.
For drinks, light fare, and conversation over lunch, dinner, or late night, Rohr's is Morris Inn's newest dining option. It is open from 11:00 a.m. until 1:00 a.m. daily. Casual dress.
Lastly, for casual and comfortable outdoor dining, guests can enjoy the Wind Family Fireside Terrace.

Menus: Sorin's Dining | Sorin's Wine List | Rohr's Dining | Rohr's Beverages