Morris Inn at Notre Dame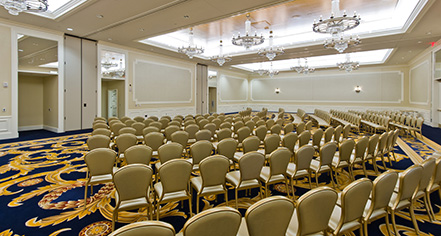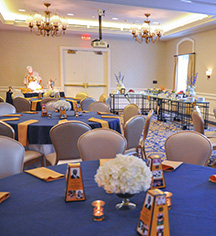 Meetings & Groups
Located on the beautiful campus of the University of Notre Dame, the IACC-certified Notre Dame Conference Center at McKenna Hall offers guests a scenic setting as well as simple solutions for today's meeting environment. The Morris Inn's dedicated team of professionals guarantees that events will be the best it can be. When it comes to meetings, conferences, lectures, training sessions, continuing education courses, screenings, or social events, Morris Inn offers a level of commitment unheard of in the hospitality industry.
The Notre Dame Conference Center at McKenna Hall is dedicated to supporting the global academic mission of the University by providing an environment conducive to cultural sharing and intellectual exchange. Its motto is "Where Scholarship and Hospitality Meet."
The Notre Dame Conference Center was built in 1966 through a grant from the W.K. Kellogg Foundation. It was designed with open and spacious areas to facilitate conversation and discussion among conference participants as well as to accommodate social gathering and events. Its 20,000 square feet of space contain 12 seminar rooms, all appointed according to the guidelines of the International Association of Conference Centers, of which it is a member. It also features a 375-seat auditorium equipped for simultaneous translation of up to 14 different foreign languages. All meeting rooms are equipped with state-of-the-art technology. Lastly, its large and gracious dining room accommodates meals and receptions, all catered by the Morris Inn Banquet Department.
Morris Inn's extensively trained Notre Dame Conference Center staff assists in the design and execution of every type of special event. Services include registration, campus and hotel accommodations, logistical and administrative support, and management of all funding and event costs, concluding with a detailed financial statement.

Meeting & Event Brochure
Meeting & Event Space Specifications