Mountain View Grand Resort & Spa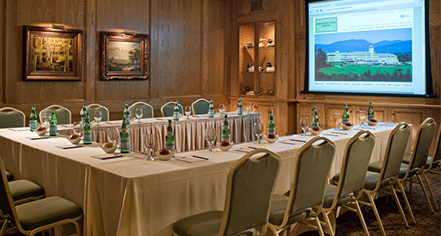 Venues & Services
Main Hotel Venues
Crystal Ballroom
One of the most unique and elegant meeting venues in New England, meticulously restored to its original classic design. The White Mountains are prominently on display with nearly 360-degree picture windows in the largest room on property at 6,805 sq ft with a capacity of 275 - 400 guests.
Eisenhower Boardroom
A cozy, intimate room optimal for face-to-face meetings featuring a built-in flat panel television and a capacity of 12 people in the 308 sq ft space.
Garden Room
Located in the main hotel, this tranquil room features a walkout deck overlooking waterfalls and a Koi pond. Agreeable weather makes this 961 sq ft space the ideal venue for smaller meetings with a guest capacity of 46 people.
Hunt Room
A cozy, intimate room perfect for smaller meetings often used for receptions, coffee breaks, and company meals. The Hunt Room at the Mountain View Grand Resort & Spa is 396 sq ft and has a maximum capacity of 18 guests.
Dodge Parlor
A welcoming room with comfortable furniture and numerous windows to indulge in the stunning view of New England's White Mountains. With 810 sq ft of space, the Dodge Parlor accommodates up to 84 guests.
Presidential Hall Venues
The Presidential Hall Conference Center is built in the heart of the stunning White Mountains on the grounds of the historic Mountain View Grand Resort & Spa. This spacious facility features 14-foot vaulted ceilings, floor-to-ceiling windows offering views of 57 mountain peaks and just steps from the main hotel building.
Presidential Hall Ballroom
Ideal for larger events, the ballrooms is the most prominent venue in the Presidential Hall that can be divided into two smaller rooms. The room, as a whole, is 3,978 sq ft with a maximum capacity of 379 guests.
Coolidge Room
Equipped with a Sanyo Projector, integrated speaker system, and the comforts of a corporate office, The Coolidge Room is ideal for smaller and more intimate meetings with 437 sq ft and a capacity of 45 guests. Cleveland Room
An elegant and comfortable room, also equipped for smaller, intimate meetings with built-in audio-visual capabilities, 437 sq ft and a maximum capacity of 45 guests.
Other Meeting Rooms
Club House
A casual setting ideal for mid-sized meetings or catered events. Guests can relax inside or mingle outside on the expansive deck with spectacular views of the Mountain View Grand Golf Course. The Club House offers 682 sq ft of space and accommodates 70 guests.