Mountain View Grand Resort & Spa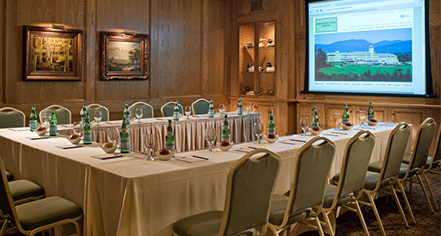 Meetings & Groups
Set amid the inspiring White Mountains, Mountain View Grand Resort & Spa offers over 20,000 sq ft of inspiring, flexible meeting space, including the grand Presidential Hall Conference Center and indoor and outdoor venues, to accommodate groups and events of all varieties and sizes. The resort also provides a wide range of innovative team-building activities and extensive menu and catering options.
Crystal Ballroom
Thoughtfully-restored to its original glory, Mountain View Grand Resort & Spa's Crystal Ballroom is an opulent meeting venue boasting a spectacular crystal chandelier suspended from a hand-painted interior dome. Affording panoramic views of the breathtaking New Hampshire mountains from its nearly 360 degree picture windows, this unique space is the largest at the hotel with 6,500 sq ft.
Eisenhower Boardroom
Lending views of Mount Washington and the Presidential Range, the Eisenhower Boardroom is an intimate and private retreat ideal to host executive meetings and private events. A dignified space, the boardroom is equipped with built-in audiovisual technology, including a flat panel television.
Garden Room
Situated in the main building of the Mountain View Grand Resort & Spa, the Garden Room is a versatile space perfect for smaller meetings and gatherings. This elegant venue features a walkout garden deck that overlooks waterfalls and the Koi pond.
Hunt Room
Due to its convenient location in the main hotel, the is popular for receptions, coffee breaks, and company meals with smaller, intimate groups.
Dodge Parlor
An inviting space with abundant windows framing a view of the spectacular golf course and mountains, the affords an inspiring setting to ensure productive and successful events. Ideal for medium-sized meetings and groups, this parlor boasts wood-beamed ceilings, historic accents, and thoughtfully-appointed furnishings. Access to a veranda is available during warmer months.
Presidential Hall Conference Center
Exquisitely-appointed and carefully restored, the elegant Presidential Hall Conference Center is situated on the historic hotel grounds, centered in the heart of the majestic White Mountains boasting breathtaking views of the stunning surrounding landscape. Ideal for corporate events and meetings, Presidential Hall is just steps from the 9-hole golf course and offers a variety of versatile, modern spaces to accommodate every event. Adorned with 14-foot vaulted ceilings, advanced audiovisual equipment, and floor-to-ceiling windows that open to a mountaintop view, the conference center is an imposing venue in a beautiful setting.
Presidential Ballroom
An ornate venue perfect for large meetings, banquets, and conferences located in a prominent space within Presidential Hall Conference Center. The ballroom can be divided into the Harding and Roosevelt Rooms to accommodate smaller groups and events. When separated, the Harding Room features the grand fireplace, while the Roosevelt Room boasts floor-to-ceiling windows and a slightly larger in size.
Coolidge Room and Cleveland Room
Affording a luxuriously rustic charm, the Coolidge and Cleveland rooms are identical in size and equipped with state-of-the-art audiovisual systems and all the comforts of a corporate office. Both situated in the Presidential Hall Conference Center, these spaces are ideal for smaller, intimate meetings. Groups can enjoy breaks on the Presidential Foyer for stunning views of the mountain vistas.
Club House
Whether by day or under the sparkling stars of the northern sky, the casual affords spectacular views of the White Mountains. The Club House features the counterpoint of a cozy fireplace and an expansive outside deck.
Event Space Chart:
| | | | | | |
| --- | --- | --- | --- | --- | --- |
| | | | | | |
| Crystal Ballroom | 5,406 | 250 | 350 | 84 | 496 |
| Presidential Ballroom | 3,967 | 240 | 252 | 168 | 379 |
| Presidential Foyer | 693 | - | - | - | 50 |
| Roosevelt | 1,492 | 60 | 90 | 47 | 138 |
| Harding | 2,348 | 150 | 120 | 84 | 241 |
| Coolidge | 452 | 20 | 32 | 18 | 45 |
| Cleveland | 452 | 20 | 32 | 18 | 45 |
| Dodge Parlor | 927 | 40 | 66 | 40 | 84 |
| Boardroom | 308 | 12 | - | - | - |
| Library | 450 | - | 30 | - | 45 |
| Garden Room | 945 | 46 | 50 | 36 | 88 |
| Hunt Room | 396 | 18 | - | - | - |
| Country Club | 722 | 40 | 70 | 30 | 66 |
| Wine Cellar | 420 | - | - | - | 45 |
| Chef's Table | 250 | 16 | - | - | - |