Nottoway Plantation and Resort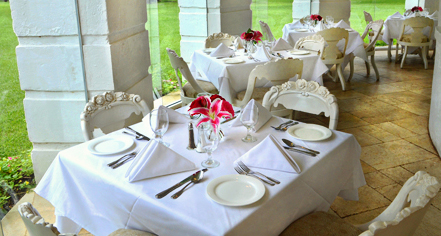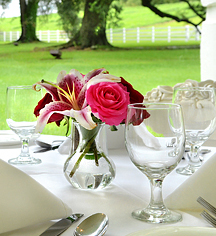 Dining
Nottoway's one-of-a-kind Mansion Restaurant is tucked away in the basement, or ground level, of the antebellum home. To guarantee historical originality, no walls or additional structures were added or removed when the space was transformed in 2009; it was originally used as a bowling alley for the Randolph children, as well as storage area for the farming operations. Architectural elements such as elaborate moldings and Corinthian columns were copied from the main level and used to unify the design of the restaurant's interiors. The curve of the coachman's niche inspired the unique shape of the solid mahogany bar… the backdrop for one of Nottoway's original grand pianos. The striking glassed-in rotunda is unrivalled, revealing a panoramic view of the plantation's 200 year-old oaks, iris pond and graceful water feature.
The MANSION Restaurant – Each dish prepared fresh from local ingredients, a culinary experience at Nottoway is like nothing else. Menus feature fresh seafood, burgers and poboys, salads, homemade soups, chicken, prime pork and beef.
Restaurant Bar & Lounge open during lunch and dinner hours.
Daily and weekly menu specials.
Breakfast: 7-10am; Lunch: 11am-2pm; Dinner: 5-9pm; Sunday Brunch: 11am-3pm.