Old Faithful Inn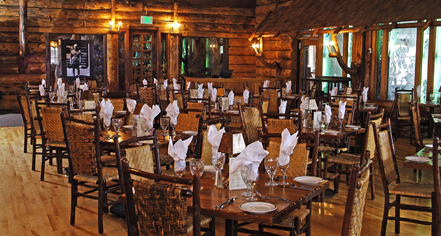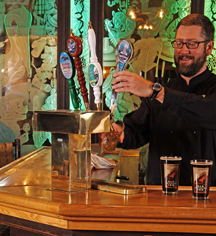 Dining
The Old Faithful Inn Dining Room seats 300 and provides a historic log cabin ambiance. The menus include hearty breakfast, lunch, and dinner options for nearly every taste and budget. The lunchtime Western Buffet is a great value and a quick alternative for those who want to spend most of their day outside. For a more leisurely lunch and dinner, the selection offers salads, sandwiches, and steaks. Dinnertime also includes a signature buffet loaded with favorites including prime rib.
The Old Faithful Bear Paw Deli is perfect for those on the run. It's a quick-service deli, which offers house-made specialty sandwiches, salads, and ice cream treats.
The Bear Pit Lounge is adorned with etched glass panels inspired by the original wooden Bear Pit murals. The lounge offers a pleasant locale for a drink, appetizers, and fond recollections of the day. The lounge is a popular gathering spot after a day exploring the park.
In addition to the Old Faithful Dining Room and The Bear Paw Deli, there are other locations to enjoy a meal while visiting the Old Faithful area of Yellowstone National Park. Be sure to check out Old Faithful Lodge & Cafeteria & Bake Shop, the Old Faithful Snow Lodge Obsidian Room, and the Geyser Grill for excellent alternatives to the more popular restaurants.
For more information about Old Faithful Inn or to make reservations please visit yellowstonenationalparklodges.com/lodgings/hotel/old-faithful-inn/ or call 1.866.GEYSERLAND (866.439.7375).