Old Faithful Inn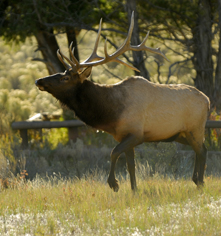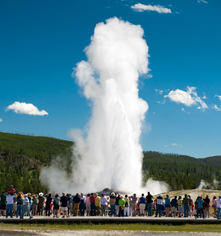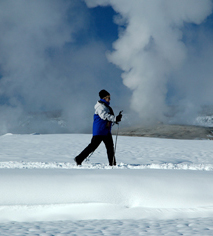 Local Attractions
In Yellowstone every day is an exploration, an adventure.
With more than two million acres, Yellowstone is a park unlike any other. When finding something to do and see, the Old Faithful area is no exception. A Historic Yellow Bus Tour or a self-guided trek along the Geyser Hill Loop Trail is recommended.
Historic Yellow Bus Tours
Old Faithful Inn offers a wide selection of Historic Yellow Bus Tours throughout the park. In the Old Faithful area, one of the most popular is the Geyer Gazers tour. These tours are 1½-hour adventures into the Fire Hole - a name bestowed by the mountain men of the early 19th century to designate the valley and the rising steam that resembled smoke.
Departing from Old Faithful Inn, visitors can enjoy expansive views from the Historic Yellow Bus (top down if the weather's nice!) as they navigate the Grand Loop Road. Be sure to take in the sights along Firehole Lake Drive, where Firehole Spring, Surprise Pool, Great Fountain Geyser, and other wonders lie adjacent to the road. From here, the tour plans its major walking stop at Midway Geyser Basin, which is home to the Grand Prismatic Spring - the largest hot spring in Earth's Western Hemisphere. Also expect to see Excelsior Geyser, which has views into its deep cyan-tinted depths that belie its history as Yellowstone's most violent and explosive geyser.
Geyser Hill Loop Trail
Geyser Hill Loop Trail tours the first group of geysers in the Upper Geyser Basin. Over 40 geysers can be found here, as well as various other hot pools and vents. An elevated boardwalk leads around this popular basin, giving an up-close and personal view of features like Beehive, Giantess, and Anemone Geysers. Numerous other trails and thermal areas can be accessed from the Geyser Hill Loop Trail as well. The distance is about 1.3 miles round-trip and hikers can expect to spend about 1-2 hours exploring. Before touring Geyser Hill Loop Trail, contact the National Park Service Visitors Center to check for updated information, including seasonal closures. Also, visit yellowstonenationalparklodges.com for additional information about the thermal features in this area.
To help you plan a trip, the Yellowstone Experience Planner is recommended- a must for anybody who is looking forward to an excellent Yellowstone adventure. By using the resources included in this planner, visits to the world's first national park promises countless and priceless memories.
For more information about Old Faithful Inn or to make reservations please visit yellowstonenationalparklodges.com/lodgings/hotel/old-faithful-inn/ or call 1.866.GEYSERLAND (866.439.7375).