Omni La Costa Resort & Spa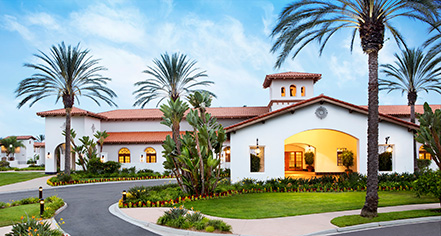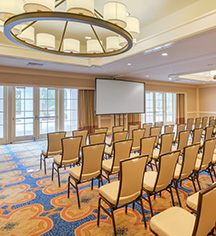 Meetings & Groups
At Omni La Costa Resort & Spa, hosts will discover an idyllic Southern California destination, perfect for their next corporate meeting, military ball, or dream wedding. Featuring luxurious guestrooms and suites, expansive venue spaces and world-class amenities, attendees will be impressed by the impeccable service and striking beauty of this breathtaking resort.
Offering more than 100,000 square feet of indoor and outdoor event space, the versatile room configurations and outdoor venues can be set up to accommodate anywhere from a few dozen people to well over 1,000. Beyond extensive meeting spaces, every organization that visits the resort can also take advantage of specialized group programs such as wellness breaks, team building exercises, golf outings, and spa retreats.
The conference services team and wedding specialists ensure that groups have a perfect session and can help plan every detail, including customized catering menus that provide flavorful culinary experiences the entire group will enjoy. The Coastal Events Center is ready for the next conference, offering a ballroom, executive learning center, boardrooms, and a variety of breakout rooms with stunning views and patios.
Costa del Sol, North San Diego's largest ballroom, has 18,000 square feet of elegance perfectly designed to host large events. Whether planning a one day event or a group meeting to last over a series of days, the iconic Omni La Costa Resort & Spa is the perfect venue for groups, small and large.

Costa Del Sol Ballroom


18,000
180 x 100 x 18 ft
1050
1600
1225
1700
-
-
-

Salon A-E, or D-H


13,500
135 x 100 x 18 ft
800
1300
925
1350
-
-
-

Salon D & E


9,000
90 x 100 x 18 ft
525
800
625
850
-
-
-

Salon A-D or E-H


9,000
90 x 100 x 18 ft
525
800
625
850
-
-
-

Salon D or E


4,500
45 x 100 x 18 ft
250
400
325
425
-
-
-

Salon A-C or F-H


4,500
45 x 100 x 18 ft
250
400
325
425
-
-
-

Salon A-B, B-C, G-H,
or F-G


2,970
45 x 66 x 18 ft
160
300
215
270
-
80
-

Salon A, B, C, F, G,
or H


1,485
45 x 33 x 18 ft
75
100
100
135
40
45
50

Costa Del Sol Foyer


5,796
28 x 207 x 20 ft
-
-
300
600
-
-
-

Las Palmas


1,544
37 x 42 x 10 ft
100
160
120
160
40
50
55

Las Palmas I or II


777
37 x 21 x 10 ft
45
90
60
80
20
24
30

Office I


256
16 x 16 x 10 ft
-
-
-
-
-
-
-

Office II


196
14 x 14 x 10 ft
-
-
-
-
-
-
-

Coastal Events Center
Upper Level



Poinsettia Ballroom


8,140
110 x 74 x 14 ft
500
1,000
540
800
-
-
-

Poinsettia I, II, III


2,664
34 x 74 x 14 ft
160
300
170
200
-
50
60

Poinsettia I & II
or II & III


5,328
-
320
600
340
-
-
100
120

Poinsettia Foyer


-
-
-
-
-
275
-
-
-

Gardenia


1,326
52 x 24 x 10 ft
88
160
140
120
35
40
45

Gardenia I or II


650
52 x 26 x 10 ft
40
80
60
60
20
24
30

Carnation


680
34 x 20 x 10 ft
30
64
48
60
20
20
24

Camellia


576
32 x 18 x 10 ft
20
50
40
30
20
20
24

Daisy


576
32 x 18 x 10 ft
-
-
-
-
16
-
-

Poppy


250
18.5 x 13.5 x 10 ft
-
24
-
-
16
-
-

Coastal Events Center
Lower Level



Learning Center


1,700
-
85
-
-
-
-
-
-

Iris


1,716
52 x 33 x 10 ft
110
175
160
160
40
45
50

Iris I or II


858
26 x 33 x 10 ft
45
80
72
80
24
30
35

Orchid


1,377
21 x 27 x 10 ft
88
160
140
120
35
40
45

Orchid I or II


675
25 x 27 x 10 ft
40
80
60
60
20
24
30

Marigold


870
30 x 29 x 10 ft
50
100
60
100
18
24
30

Azalea


456
19 x 24 x 10 ft
-
-
-
-
16
-
-

Jasmine


54
9 x 7 x 10 ft
-
-
-
-
-
-
-

Club House



Parlor


2,376
66 x 30 x 10 ft
130
250
200
220
45
50
55

Veranda


2,950
50 x 59 x10 ft
160
350
240
400
45
50
55

Outdoor



Costa Del Sol
Terrace


1,536
-
-
-
240
400
-
-
-

Costa Del Sol
Side Lawn


3,015
-
-
-
360
500
-
-
-

Las Palmas Terrace


855
-
-
-
48
50
-
-
-

Vista Terrace


9,500
-
-
-
600
800
-
-
-

Orchid Terrace


4,150
-
-
-
288
350
-
-
-

Iris/Marigold/
Azalea Terrace


4,150
-
-
-
288
350
-
-
-

Terrace Lawn
(Upper)


11,424
-
-
-
700
850
-
-
-

Terrace Lawn
(Lower)


4,500
-
-
-
350
425
-
-
-

Legends Lawn


1,575
-
-
-
120
150
-
-
-

Valley Promenade


2,625
-
-
-
275
400
-
-
-

Legends Lawn &
Valley Promenare


4,200
-
-
-
400
550
-
-
-

Plaza


-
-
-
540
800
-
-
-

Pool Area



Resort Pool


-
-
-
-
340
500
-
-
-

Villa Pool


5,472
-
-
-
80
120
-
-
-

Garden Pool


10,472
-
-
-
720
1,000
-
-
-

Edge Pool


3,975
-
-
-
140
200
-
-
-

Diversions Terrace


2,400
-
-
-
100
120
-
-
-

Edge Pool &
Diversions Terrace


6,375
-
-
-
240
350
-
-
-