Omni Shoreham Hotel, Washington DC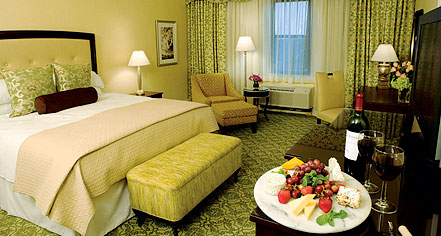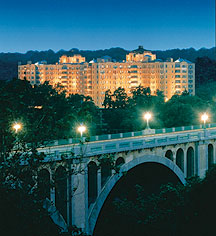 Suites
Classic Suites
Choose between one king-size or two queen-size beds in a Classic Suite at Omni Shoreham Hotel. A wall partition separates the sitting room from the bedroom and includes two flat screen televisions and a sofa bed. New carpet, drapery, deluxe bedding and mattresses reflect a garden-themed oasis. These suites range from 513 - 569 sq ft.
Premier Garden View Suites
Embracing an open floor plan that allows access from the bedrooms, Premier Garden View Suites are furnished with an intimate sitting area, separate bedroom, and a balcony overlooking the garden. Furnished with two flat screen televisions, two queen-size beds with deluxe bedding and mattresses, a sofa bed, and new carpeting along with drapery, these garden themed rooms range from 513 – 569 sq ft.
One Bedroom Suites
Choose either one king-size or two queen-size beds for the bedroom and unwind on the living room sofa in a One Bedroom Suite at this historic DC hotel. Two overstuffed chairs and a coffee table are included, making it easy to invite guests up for a spot of tea. Two televisions, a desk, and a dining table complete the room for the ultimate in comfort and luxury. Some of these suites include balconies and range from 526 – 711 sq ft.
Ghost Suites
Known for its strange occurrences and the death of a maid and a young girl, Ghost Suites are for those who are not faint of heart. These Washington accommodations are renovated and feature modern, luxurious design which also include steel bathroom fixtures, granite-topped wet-bars, beautiful decorative mirrors, and breathtaking photography.
Presidential Suite
Each named after seven different presidents, the Presidential Suites include a separate bed room with a king-sized bed, a kitchen complete with appliances, a large dining room that can comfortably seat 8 guests, and a living area with a couch, overstuffed chairs, and a coffee table. A library is included in these luxurious suites which are furnished with a couch, coffee table, oversized bathroom, five telephones, a fireplace, and balcony. These luxurious suites offer a modern and luxurious design with stainless steel bathroom fixtures, granite-topped wet-bars, decorative framed mirrors, and professional photography. To accommodate larger parties, a deluxe bedroom with two queen beds can adjoin the Presidential Suite.
All Accommodations at Omni Shoreham Hotel are ADA Accessible