Penn Wells Hotel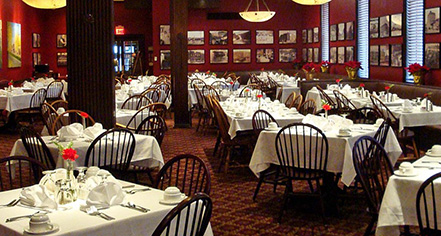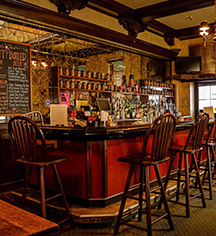 Dining
Mary Wells Room
The Penn Wells Hotel's main dining space is the Mary Wells Room, often referred to as simply "the Dining Room." The restaurant provides a classic fine dining experience in a space that carefully incorporates the history of Wellsboro and America. The Penn Wells culinary team presents a diverse menu, including the highest quality steaks and seafood in the area, house-made soups, unique fresh salads, delicious desserts, and much more. For weddings and banquet functions, the Mary Wells Room serves as the hotel's main ballroom.
Dining hours vary by season. During in-season periods, dinner is served from 5:00 p.m. until 9:00 p.m. Monday through Saturday, and from 4:00 p.m. until 8:00 p.m. on Sunday. Sunday brunch is offered from 9:00 a.m. to 1:00 p.m. Friday night's special is the traditional fish fry and Saturday night's special is the prime rib dinner.
Lounge
The hotel's Lounge serves the same menus as the Mary Wells Room, and also serves as the main dining area for lunch, off-season dining, and when the main dining room is being used for a large function. Both the Mary Wells Room and the Lounge are located off the hotel lobby on the main floor.
Tuesday through Saturday, the Lounge opens for lunch at 11:30 a.m. and offers continuous food and drink service until 10:00 p.m. or later. In-season, the Lounge is also open Sunday, from 4:00 p.m. until 8:00 p.m., and Monday, from 4:00 p.m. until 9:00 p.m.