Pioneer Inn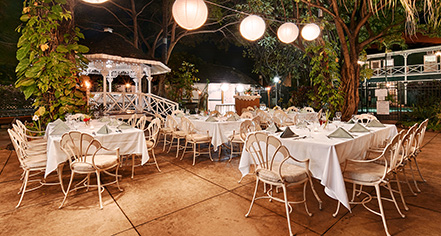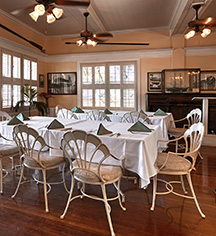 Meetings & Groups
Snug Harbor
Guests can enjoy spectacular ocean views while dining at the Pioneer Inn's elegant parlor. Snug Harbor's private dining room is furnished with antiques and photographs from Old Lahaina town. It is available for receptions and private parties for up to 48 people and classroom style meetings for up to 30 people. Click here for the room diagram.
The Courtyard
One of the best kept secrets in Lahaina is the lush, tropical courtyard of the historic Pioneer Inn. Guests can enjoy the bountiful fresh island cuisine surrounded by majestic hala trees, ferns, flowering hibiscus, and tropical foliage planted in whaling pots from 100 years ago.
A Victorian Gazebo is nestled quietly among the foliage. The gazebo has a view of the Pacific Ocean and is the perfect venue for a destination wedding. The attentive staff is available to assist with creating a memorable day for both the lucky couple and their guests.
The Courtyard is available for weddings and private parties for up to 100 people.
Private Dining/Catering Menus
Breakfast | Lunch & Dinner | Appetizers | Bar