Plaza Hotel 1882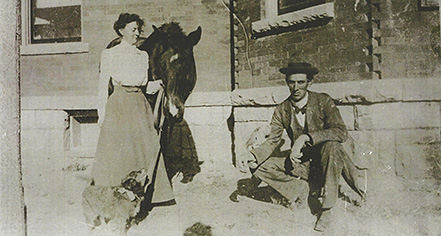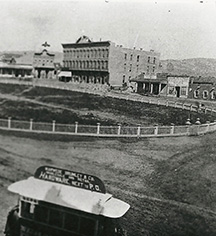 Ghost Stories
Room 310 at the Plaza Hotel 1882 has become rather famous due to numerous sightings of its resident ghost, Byron T. Mills. Mills was a prominent Las Vegas attorney who came to town in 1882 at the time the Plaza Hotel was being built. In 1918, he became the owner and operated the hotel quite successfully for many decades, and to all appearances, led a happy life. On display in Room 310 is an old photograph of Mills with his wife, along with a horse, dog, cat, and pet bird.
For reasons unknown, it was reported that Mills sold off the furnishings of the Plaza Hotel in 1945 and was about to demolish the building. Mills had said, "I almost feel guilty (about the demolition), it certainly is an old landmark." However, Mills did not demolish the building, and died of natural causes not long after in 1947.
Over the years, there have been a number of shared characteristics regarding the repeated sightings on Mills' spirit in Room 310. Most of the time, he appears at night at the foot of the bed. He does not say or do anything, but seems content to spend time quietly with hotel guests. The majority of the sightings have been reported by women and some have suggested that he seeks female companionship. Others believe Mills feels guilty about his attempt to demolish the building or that he has chosen to haunt the Plaza Hotel because it was the place he felt the happiest.
In 2015, the Travel Channel's Ghost Adventures spent a night in Room 310 and recorded multiple images and sounds on their equipment. The team reported that they absolutely believed the spirit of Byron T. Mills to be present in the room. In addition to Mills' spirit, they detected another spirit in a cave-like area tunneled beneath the ballroom. The story of this second spirit has yet to be unraveled.