Punderson Manor Lodge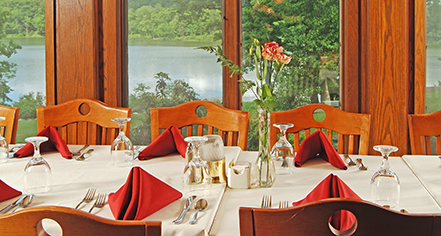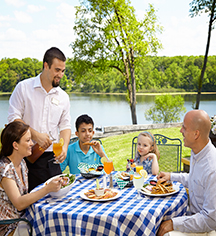 Dining
With seating for up to 108 guests, the Punderson Lodge restaurant, known as the Cherry Dining Room, offers an elegant, family-oriented setting, and a casual dress code in which guests can enjoy breakfast, lunch, and dinner, served daily. For larger gatherings, private meeting rooms are available through the Sales Office.
Cherry Dining Room
Offering freshly made sandwiches, classic dishes such as fish and chips to filet mignon, the Cherry Dining Room offers a wide breadth of food sure to delight every type of guest. Cooked-to-order breakfast, lunch, and dinner is offered daily and year-round in an elegant atmosphere. When the weather is nice, guests can enjoy outdoor seating. Special culinary events throughout the year keep things interesting with events like Breakfast with Santa, All-you-can-eat Pancake Breakfasts during maple sugaring season, and grand buffets for Mother's Day, Thanksgiving, Christmas Eve, Christmas Day, and New Year's Eve.
The Oak Bar
Offers a host of drinks and cocktails and opens daily at 5:00 p.m.