Sacajawea Hotel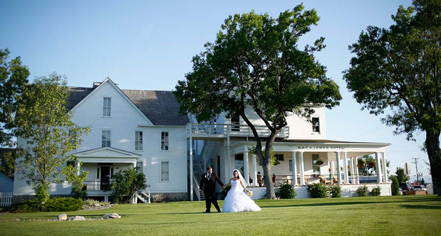 Weddings
Happily ever after begins here. Set in the charming small town of Three Forks and surrounded by majestic rivers, the grandeur and elegance of this classic 1910 hotel will capture the most elegant and charming wedding.
Setting: Sacajawea Hotel will provide a wedding tent softly draped with chandeliers, able to accommodate up to 200 guests. The tent can expand out to include a patio to accommodate larger weddings. Wedding parties can customize the decor and floral arrangements to personalize the setting.
Service & Staff: The seasoned event coordinator will assist and give recommendations throughout the four major components of wedding planning at the Sacajawea Hotel: reserving overnight accommodations, the timing and logistics of the events, menu selections, and choosing suitable vendors.
Cuisine: The professional culinary team takes pride in the freshly made, unique menu selections offered to couples. They are committed to using local ingredients whenever possible and making each meal an authentic Montana experience. Meals are served by a professional, courteous wait staff attentive to every detail from start to finish, assuring that all rehearsals, cocktail receptions, dinners, and brunches will delight the couple and their guests.