Silver Birches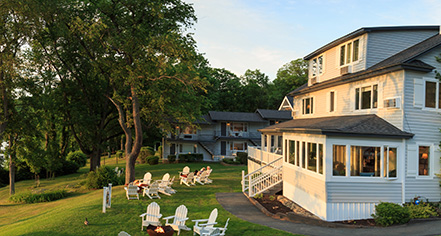 Meetings & Groups
The Silver Birches has two spaces for groups, meetings, or weddings. The Starboard Room, the private dining room, can accommodate up to 25. The Waterfront Banquet Center can accommodate events of 50 to 250 people.
The Waterfront at Silver Birches has a proud tradition of providing an exquisite location for a lovely wedding. The dedicated staff delivers on the promise that "the only thing we overlook is the lake." From pre-event planning to execution, there is always a member of the experienced team to assist with the important details – from the ceremony and cocktail hour, to the dinner and wedding cake, because it is the combined details that make every Waterfront wedding special.
The Waterfront is the only location on Wallenpaupack that can host a Poconos wedding for up to 250 guests in an immaculate setting, with both comfort and elegance. These Pocono wedding packages are designed to offer menu choices and budgets to fit the needs and style of every bride. Although we can't claim credit for the awe-inspiring sunsets, we do acknowledge that they enhance the romance of the day. Our photo gallery proves that "a picture says a thousand words."
A wide variety of Pocono wedding packages are also available, ranging from a sit-down dinner or lavish buffet to a "Stations" reception. Packages can be customized to create a unique one-of-a-kind wedding. Guests will always remember a wedding reception at The Waterfront.
The Waterfront wedding coordinator pays close attention to even the smallest detail and will help plan the special day, from selecting menus, colors, and flower arrangements, to the wedding cake and ice sculptures. An accessible shoreline and lakeside deck provide a stunning natural backdrop for memorable photographs or an outdoor ceremony.