Sofitel Washington DC Lafayette Square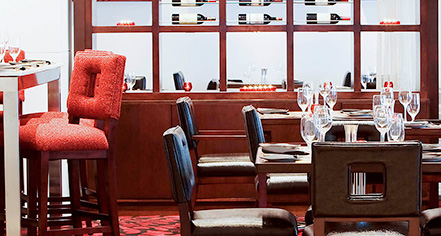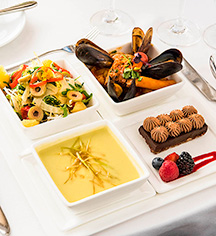 Dining
Sofitel Washington DC Lafayette Square offers contemporary, modern cuisine in two restaurant settings, the older of the two being Le Bar; the other is Opaline Bar & Brasserie. Enjoy modernity steeped in tradition with French flair at either of these restaurants featuring local ingredients.
Le Bar
Le Bar is a modern bar and lounge for those seeking a less formal environment in which to relax and socialize. The expansive drink menu features specialty martinis, Champagne, and shimmering wines. For those seeking a bite, small shareable plates are available, with such treats as homemade boudin blanc sausage, charcuterie, and various delicious cheeses.
Opaline Bar & Brasserie
For those seeking an upscale French dining experience, the Sofitel's answer is Opaline Bar & Brasserie. Named after different types of glass in French, Opaline features a 90-seat bar and 84-seat brasserie, complete with brass fixtures and dark wood flooring in a space accented by blue and gold tones throughout. Traditional French fare like tartines, fruits de mer, croquet monsieur, and steak tartare will make up the delightfully authentic menu.