Boar's Head Resort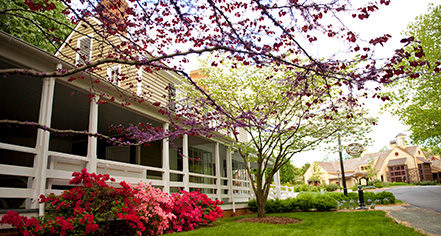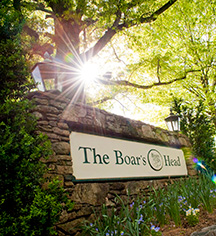 History
The Ordinary
In the 1730s, the inn property was the site of Terrell's Ordinary, a modest inn where westward travelers stayed the night. By the 1960s, the Ordinary was but a memory. In its place was the quintessential Virginia inn.
The Old Mill
The heart of Boar's Head Resort was built from the timbers of an abandoned gristmill along the banks of the Hardware River, which dated back to 1834. The relocation of the mill was an opportunity to preserve and transform a treasured Virginia artifact. It had survived burning despite the orders of Generals Grant and Custer during their march through Charlottesville in the Civil War. Indeed, it had continued to operate some 60 years after the war's end.
Piece by Piece, The Construction

The old mill was carefully dismantled and reconstructed piece by piece at the present site of the inn. The original fieldstones, heart pine beams and planks, and massive grist stones are now prominently featured throughout the Boar's Head. Today, the heart of the Boar's Head Resort is the Old Mill Room, whose time-worn timbers recall the original mill. Outside, millstones are visible reminders of the building's proud past.
The University of Virginia Foundation, The Restoration
Boar's Head Resort was purchased in 1988 by the University of Virginia Foundation. Since that time, the University of Virginia Foundation has invested almost $20 million to renovate and continually upgrade the inn. For 20 years, Boar's Head Resort has received the prestigious AAA Four Diamond Award.
Boar's Head Tradition
Since Shakespeare's day, London's Boar's Head was synonymous with good food and warm hospitality, a tradition maintained today in the foothills of this Blue Ridge Mountain inn, here at Boar's Head Resort in Charlottesville, Virginia.

Boar's Head Resort, a member of Historic Hotels of America since 2001, dates back to 1834.
*****
Guest Historian Series
Read more about the history of the Boar's Head, as told by Historic Hotels of America 2014 and 2015 Historian of the Year Stanley Turkel. Excerpt is taken from his latest book Built to Last: 100+ Year-Old Hotels East of the Mississippi (AuthorHouse 2013).