The Broadmoor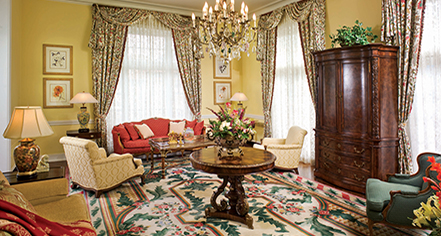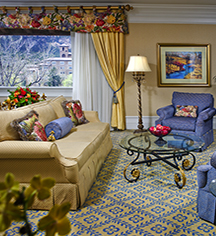 Suites
SUITES
East Executive Suites
Eastmoor Suites: Perfect for families, these comfortable, high-ceiling suites have a parlor with a queen-size pullout sofa bed. A door between the parlor and the bedroom adds privacy and the décor is decidedly light and European in feel with large white shuttered windows.
Lakeside Junior Suites: With a stunning view of Cheyenne Lake and the mountains, these suites have a distinctly French Country feel. Warm and comfortable décor is highlighted by a seating area, king bed and a large master bath with soaking tub and unique shuttered window that allows for privacy or a picturesque bedroom window view.
Lakeside Patio Suites: With all the views and features of the Junior Suites, Lakeside Patio Suites also have a private balcony or lake level patio, an inviting gas fireplace and comfortable seating area for added ambience.
South Tower Suites: Modern technology meets distinctly classic charm in these suites that are highlighted by large picture windows that open to "Juliet" railings with lake and mountain views. The rooms have gas fireplaces and sofas, king beds, large bathrooms with soaking tubs and a unique computerized bedside system that controls lights, curtains, television and sound systems, as well as privacy and maid service lights.
West Executive Suites
Terrace Junior Suite: These suites offer the option of a king bed or two double beds. The views of the lake, golf course, or mountains make these intimate suites a delight to retire to at the end of a busy day. West Junior Suites have picture windows, a large bedroom that includes a sitting area with overstuffed loveseat, chairs and an ottoman.
West Tower Patio Suites: Not only do these intimate suites have lake, golf course or mountain views, there is a private balcony that is perfect for morning breakfast "a deux," or a private evening cocktail. These patio suites have a king bed, sofa, comfortable overstuffed chair and ottoman, a large bathroom and a walk-in closet.
West Tower Suites: The views are only the beginning. Showcasing the golf course, the West Tower Suites are highlighted by a cozy seating area in a separate parlor with large picture windows. Each suite has two double beds.
SIGNATURE SUITES
East Suites
Carlton Suite: Named after a prominent businessman and friend of Spenser Penrose, this suite was built with the main hotel in 1918. This beautiful suite has a grand entryway, sitting room, parlor, open sun porch and a conference area with three bedrooms and three full baths. Step back in time with high ceilings, elegant architectural details and 360 degree views.
Devereaux and MacNeil Suites: Situated on the 4th floor of BROADMOOR Main, These mirror suites are named after good friends and business partners of founder Spencer Penrose. Light and airy spaces are highlighted by large king bedrooms and an open sitting room and dining area. The Devereaux overlooks the city while the MacNeill views the mountains; both also overlook the golf course. At 1,197 square feet each, they are perfect for two, but spacious enough to entertain.
Edith K. Gaylord Suite: Gracing the top floor of the Lakeside Building, this suite is unique in every way. Its 1,800 sq ft has commanding views of the mountains, the lake, pool and golf courses. Décor is unlike any other in the hotel and features rich gold and brown tones that evoke memories of the Penrose's world travels. The balcony, located directly off the parlor, has arguably one of the best views on the property. The king bedroom features a fireplace, dressing area and large terrace that is also accessed off a private door from the suite entryway. With a beautifully appointed living room and dining area, the Edith K. offers the "height" of privacy.
Penrose Suite: It was the home of Mrs. Julie Penrose from 1944 until 1957; a private apartment with a dining room for entertaining, a sitting room and gas fireplace, formal living room, glass enclosed sun room, three attached bedrooms with individual baths and spectacular views of both the mountains, lake and the city. Essentially intact, it defines grace as much as Mrs. Penrose herself. It is the epitome of European luxury.
Cheyenne and South Lake Suites: Situated in a beautiful 1920's building on the edge of Cheyenne Lakes, these suites are reminiscent of the days of Great Gatsby. Elegantly appointed yet very comfortable, with glass enclosed sun porches that provide gorgeous views of the mountains to the west these suites are a perfect place to relax and enjoy a Colorado sunset. South Lake and Cheyenne Lake Suites offer large parlors and a sitting room, and fireplaces. The two Cheyenne Lake Suites also have a large dining table and an outdoor patio perfect for small gatherings. A king bedroom with a large and well- appointed bath and claw-foot tub connects to the bedroom. An additional connected bedroom may also be added to either of the Cheyenne Lake Suites for family and friends.
West Suites
Parker Suite: The grandest of accommodations in the newly reimagined Broadmoor West building, The Parker Suite is perfect for entertaining and group getaways. The parlor and dining area, which features a marble entryway, wood flooring, fireplace, powder room, and inviting furnishings, opens to a large patio and terrace that frames an incomparable mountain backdrop. The living space is connected on either side by king bedrooms each with state-of-the-art five fixture marble baths. Two additional double queen bedrooms can be connected to make this a four bedroom private escape.
West Tower Gaylord Suite: It is the jewel of the West Tower. This 2,300 sq ft suite is beautifully appointed with comfortable, classic furniture that feels like a home away from home. Two grand bedrooms connect to the suite through a private hallway entrance. A large, outdoor terrace features incomparable views of the mountains and the lake. It has hosted numerous famous guests including Liza Minelli, Cher, Elton John and Bill Gates. For privacy, or for entertaining, this is the ultimate Broadmoor suite experience.