The Chateau at Oregon Caves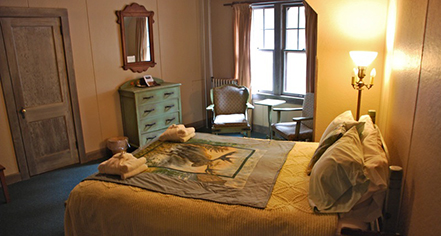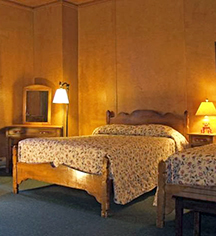 Accommodations
Open from May through September, The Chateau at Oregon Caves boasts 23 historic guestrooms and suites, each affording its own, unique charm. A National Historic Landmark, the Chateau is uniquely situated in its natural surroundings and, as a result, does not have elevators, air-conditioning, televisions, telephones, Internet in the guestrooms, and very limited cellphone reception. The Chateau does not have rooms available with wheelchair access.
Furnished with Monterey furniture, Deluxe Rooms are available with two double beds or one queen-size bed.
Suites are spacious accommodations ideal for families and discerning guests in need of more space.
Standard Rooms are furnished with two double beds or one queen-size bed and a limited view.
Ideal for the budget-minded guest, Economy Rooms offer one queen-size bed in a cozy setting.
Roll-away beds are available on a first-come, first-serve basis at $15 each (charge does not apply when paying for extra person.)