The Chateau at Oregon Caves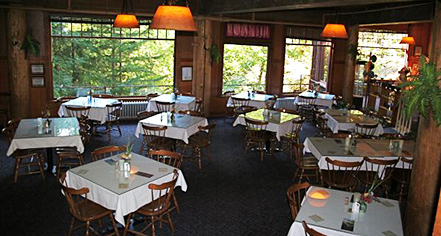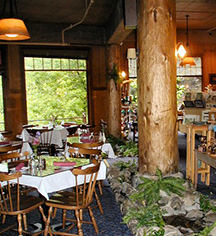 Dining
Whether guests are looking for a leisurely, sit-down affair, a bite at a nostalgic soda-fountain café, or just want to grab a snack, the Chateau at the Oregon Caves has something for everybody.
Chateau Dining Room
Situated on the third floor, the Chateau Dining Room boasts picture windows where diners can enjoy a beautiful Oregon setting, including views of the impressive canyon and the stream—the same one flowing through the room—winding around the Oregon Caves.
Serving Northwestern cuisine, the dining room showcases the best that southern Oregon has to offer, from the freshest, locally-grown herbs and vegetables and locally-raised meat, poultry, and dairy products, to Illinois Valley and Rogue Valley cheeses, wines, and microbrews.
A proud advocate of sustainable agriculture, the Chateau Dining Room affords a special dining experience offering comforting, healthy cuisine that is full of flavor.
The Coffee Shop (Caves Café)
Boasting a 1930s coffee shop setting, Caves Café offers a nostalgic dining experience serving traditional American fare, including classic burgers and old-fashioned malts and milkshakes.
Open daily corresponding to the Chateau's open season from 7:00 AM - 5:00 PM.
Gallery Deli
For guests on-the-go, the Gallery Deli offers a variety of sandwiches, salads, and other treats, made fresh daily.