The Cliff House at Pikes Peak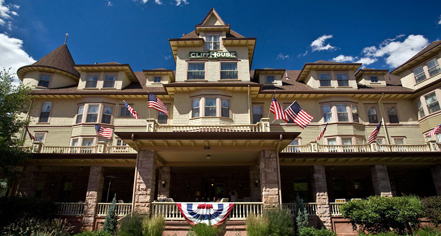 Venues & Services
The Meeting Rooms

J.S. Morley Ballroom (2,500 square feet)
The Ballroom at the Cliff House provides flexibility and elegance to your next meeting, reception, or holiday party. Providing a unique and memorable place for education or business entertainment.
Theater Seating or stand-up reception: 175
Seated dinner without dancing: 150
Boardroom Table: 40

The Cathedral Spires Pavilion (1,850 square feet)
Sitting high atop our East Addition, this majestic meeting space soars above Manitou Springs. With incredible mountain vistas, fully retractable walls for an open air breeze and gently bathed in light, The Pavilion is setting the new standard for inspiring meeting spaces!
Theater Seating or stand-up reception: 150
Seated dinner without dancing: 90
Boardroom Table: 35

Williams Canyon Boardroom ( 1160 square feet)
Want to get down to business? This comfortable room on the bottom floor of our East Addition exudes a sense of privacy and focus. It has walk out access to our sunny fire-pit patio for breaks, and sits directly below our new, relaxed Red Mountain Bar and Grill (a perfect place for expedient lunches).
Classroom Seating: 35
Banquet Rounds: 50
Conference: 28
U-shape Meeting Table: 30

Pikes Peak Boardroom (455 square feet)
For smaller meetings the Pikes Peak Boardroom provides a perfect intimate setting for lunch and/or breakfast, presentations, or board meetings. The Pikes Peak Boardroom can also be divided into two smaller rooms (The Pikes Peak and Garden of the Gods , each 224 sq. ft.) for smaller gatherings.

Capacity: (Boardroom / Pikes Peak or Garden of the Gods)
Classroom: 30 / 12
Banquet: 30 / 12
Boardroom: 22 (only available in full Pikes Peak Boardroom)
Theater: 50 / 20

Solarium (192 square feet)
Private meeting space located in the Cliff House dining room. The Solarium is an excellent place to enjoy a lunch or dinner meeting while experiencing our award winning entrees.

Tables to seat 12 (best suited for meetings/presentations with no audiovisual needs)