The Cliff House at Pikes Peak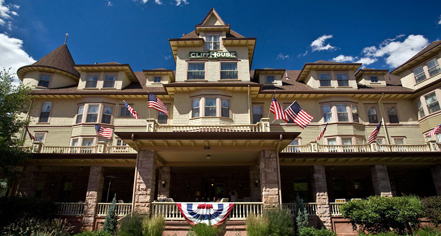 Veranda Dining (Seasonal)
When the weather warms, you'll find many guests prefer to dine in the fresh Rocky Mountain air of our Veranda. The Veranda is perfectly positioned to bask in the warm glow of the late afternoon sun, and on most nights Veranda guests get to witness one of Manitou's best free shows: the stunning sunsets over Pikes Peak.

The Veranda Menu is also available indoors to those who wish to eat in our elegant Music Room.

Dress Code
Because of our unique setting and western location, we do not have a set dress code. Guests should feel comfortable when at the Cliff House.