The Condado Plaza Hilton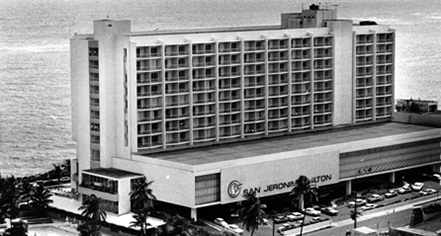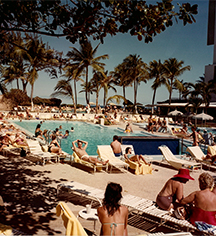 History
In 1908, two American Industrialists, Hernan and Sosthenes Behn, began construction of several houses in Condado, a then-quiet oceanfront community that would become one of San Juan's most vibrant neighborhoods. In 1919, the Vanderbilt Family and other wealthy families initiated the transformation of the area when they built their homes in the area. Between 1950s-60s, Condado became a lively playground for tourists. In response, several hotels were built as part of a government sponsorship program under the Operation Bootstrap banner.
The famed Ashford Avenue is host to a culinary festival with the areas popular restaurants competing each year beside the delightful turquoise colored beaches. The Avenue was named after a well-known Condado resident Dr. Bailey Ashford. While serving as the medical officer in the general military hospital in Ponce, Puerto Rico, he was the first to describe and successfully treat the hookworm parasite in 1899.
Built in 1963, the hotel originally opened as the Ponce de Leon Hotel and soon after renamed as the San Jeronimo Hilton. The iconic San Juan hotel was designed by renowned architect Morris Lapidus, known for his neo-baroque modern style that defined the era. Since, The Condado Plaza Hilton has shared a wealth of names including Helio Isla, and, in 1977, the Condado Holiday Inn Resort and Sands Casino. In 1977, the company also acquired the Lagoon Building which was known as the Flamboyán Hotel, expanding the hotel to accommodate the booming tourist industry.
In 1978, the sky bridge that connects both buildings was added. That same year, Karl Wallenda the founder of the "Flying Wallendas," a famous daredevil, unsuccessfully attempted to cross both towers of the hotel. On June 4th, 2011 his grandson, Nik Wallenda attempted the same walk in loving memory of his grandfather. Nik, better known as the "King of the High Wire" is a Guinness Book of Records world record-holder and successfully walked the wire together with his mother.

The Condado Plaza Hilton, a member of Historic Hotels of America since 2015, dates back to 1963.