The Cotton Sail Hotel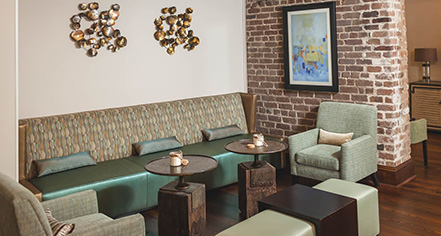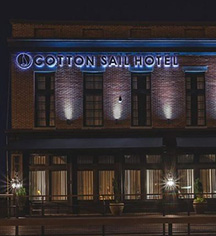 History
In the heart of Savannah's historic district is the full-service, boutique Cotton Sail Hotel. Contained within a refurbished late 1800s cotton warehouse, the name is a tribute to the hotel's historic past. Once known as the Ryan Building, The Cotton Sail Hotel blends modern luxurious accommodations with a careful attention to the historic commerce of Savannah, Georgia.
The earliest date for the construction of the building is 1852, according to the structural engineers who participated in the restoration. The building was originally a cotton warehouse during the heyday of the cotton growth in Georgia. Even after the physical damage suffered during the Civil War, Savannah made a quick economic recovery due to the North's great demand for cotton. Progress was so immediate that the Savannah Cotton Exchange was added to the city in 1887, a testament to Savannah's standing as the number one cotton port on the Atlantic and number two in the world.
The building itself has housed any number of different business throughout the nearly 200 years, including a bottling plant and an import/export facility through the hotel of today. Careful renovations led to the discovery of historic treasures: for example, the old roof was removed and the recovered heart of pine wood is now the hardwood floors in each of the guestrooms. In fact, HOS Management, the hospitality and development company responsible for the hotel, won an "Excellence in Rehabilitation" award by the Georgia Trust for Historic Preservation in 2015. The hotel opened in May 2014 and offers 56 guestrooms and a rooftop bar and restaurant.

The Cotton Sail Hotel, a member of Historic Hotels of America since 2018, dates back to 1852.