The DeSoto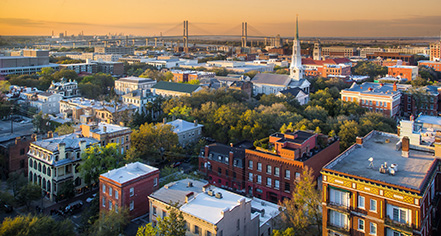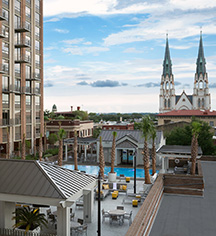 Local Attractions
Voted one of America's Favorite Cities 2010 by Travel + Leisure magazine, Savannah is a charming, beautiful and historic destination. Enjoy shows and concerts in the Savannah Theater District or hop on the Old Town Trolley Tours. From the cobble-stones of River Street to the galleries of the Savannah College of Art & Design, Savannah is packed with things to do, see, and experience. Discover the culture, art and mysteries of Savannah - Georgia's first city and one of the nation's largest national historic districts.
Historic Savannah Theater
Built in 1818, the Historic Savannah Theater is one of the most historic performance venues in the country. Renovated in Art Deco style, the theater presents live theater performances, local musicals, variety shows and the hottest live music and concerts in Savannah.
Lucas Theater of the Arts
Founded in 1921, the Lucas Theater presents a variety of films, shows, live theater, dance, pageants, and concerts by the Savannah Philharmonic. This beautiful and historic theater is also available for private events, with professional audio-visual equipment.
Juliette Gordon Low House
The birthplace of Juliette Gordon Low, founder of the Girl Scouts, this restored home serves as a museum and learning place for the advancement of girls. Tour this architectural and cultural treasure to learn about the remarkable life and legacy of the Girl Scouts' founder who gave girls a center to develop independence and resourcefulness. Explore the gallery of this National Historic Landmark, with original art works by Low and decorative arts and furnishings of the family. The museum offers fascinating tours and fun programs that bring history to life.
Owens Thomas House
A National Historic Monument, the Owen Thomas House serves as a fine example of English Regency architecture and classical antiquity. Built in 1819 for wealthy cotton merchant and banker Richard Richardson and his wife Francis Bolton, the stately house contains American and European artwork from 1750-1830, Owens family furnishings, a gorgeous English-inspired garden, and an original carriage house that contains an intact original urban slave quarters.
Colonial Park Cemetery
Established in 1750, this historic cemetery is one of Savannah's most beautiful restorations and the final resting place for many of Savannah's earliest citizens. The original burial ground for the Christ Church Parish, Colonial Park Cemetery is where many significant Savannahians, including Button Gwinnet, a signer of the Declaration of Independence, are buried and victims of the Savannah's dueling era (1740 - 1877).The cemetery is home to one of Savannah's most famous ghosts, Rene Asche Rondolier, and a stop on several ghost tours.
Savannah City Market
Known as the Art and Soul of Savannah, City Market is a festive entertainment, dining, art and shopping destination in the downtown Historic District. Anchored by the Art Center at City Market, a group of working artists' studios, this vibrant, 4-block open-air marketplace features modern stores, farmers markets, restaurants and art galleries in restored warehouses. City Market is City Market is home to the city's best restaurants, cafes and food shops and hosts live music, entertainment, street performers and festivals, including the St. Patrick's Day Festival.