The Dewberry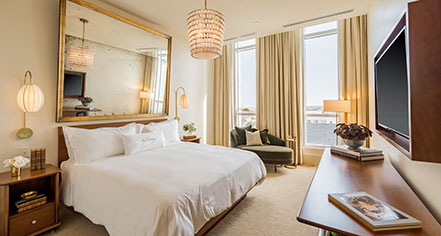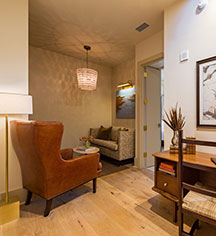 Accommodations
The guestrooms at The Dewberry are a combination of the tried-and-true materials of the South with a nod to its mid-century modern origins. The desks, bars, and custom mahogany wall units evoke a sense of timeless luxury. The furniture is principally designed by StudioDews' John Dewberry and Jaimie Brown, including side chairs, sofas, and tables of travertine and brass situated throughout the guestrooms. Other furnishings include exclusively designed, classic, modern sofas in mohair. The Danby Vermont marble baths feature cypress cabinetry and freestanding deep soaking tubs.
Instead of closets, guestrooms have armoires, crafted out of mahogany and linen by Stickley and include hand-illustrated wallpaper by local artist Becca Barnet. The wallpaper pattern is composed of local plants and flowers native to South Carolina, including Black-Eyed Susan (Bloodroot), Cardinal Flowers, Coral Honeysuckles, Creeping Dewberries, Dogwoods, Yellow Jasmine, Milkvine, Spanish Bayonet, Wisteria, and Rattlesnake Weed.
Barnet, through collaboration with StudioDew, also created the wallpaper featuring Indigo, Magnolia, Okra, Fig, and Jasmine, in the guestroom floor elevator lobby. The lobbies feature vintage Danish credenzas collected at auction by StudioDew. The chandeliers are a Joseph Hoffman Design from 1914, produced by Woka in Vienna, Austria, and the mid-century lamps were curated by StudioDew.
Click here to explore the guestroom types available at The Dewberry
Signature King: 290 sq ft, 52 guestrooms
Signature King ADA: 324 sq ft, 4 guestrooms
Signature Queens: 290 sq ft, 6 guestrooms
Superior King: 324 sq ft, 10 guestrooms
Grand King: 336 sq ft, 11 guestrooms
Grand King ADA: 350 sq ft, 3 guestrooms
Grand Queens: 380 sq ft, 20 guestrooms
Grand Queens ADA: 350 sq ft, 1 guestroom
One Bedroom Suite: 425 sq ft, 24 guestrooms
Charleston Flat: 511 sq ft, 24 guestrooms
Guestroom and Suite Amenities
24-hour room service
49-inch flat screen television
ADA accessible rooms
Air-conditioning
Alarm clock
Bathrobe
Bathroom essentials
Cordless telephone with voicemail and free local calls
Daily newspaper
Evening turndown service
Hair dryer
Housekeeping service daily
Iron & board
Mini-bar
Movies & videos
Pet-friendly
Safe deposit boxes
WiFi