The Dewberry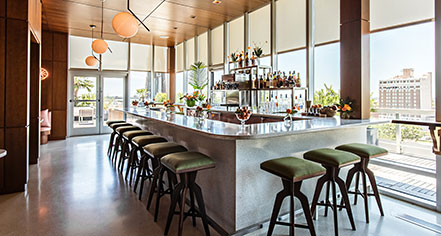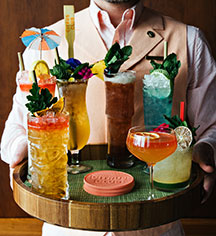 Dining
Henrietta's
Some would say growing up in the South is a rite of passage. However, growing up in south Louisiana was a passage of a different kind for Executive Chef, Wes Morton. Surrounded by a family of Southern cooks, learning how to eat well is and was, a way of life. Grandmothers on both sides were huge inspirations for his love affair not only with food, but throughout this journey of learning how to cook. You see, everything is predicated on deliciousness. He can still smell and taste her crawfish bisque, along with the étouffées, roast pork with meltingly soft cabbage, and field peas. This layering of flavors and handing down of recipes from generations past is what developed his palate at a young age. Respecting classic foods was a part of growing up.

Henrietta's will be the evolution of this process. A brasserie by foundation, Southern by region, we will pay tribute to classic techniques and dishes with a touch of contemporary execution and presentation. What we like to call a "restaurant for the people." A place to have any kind of dining experience desired. Whether dining solo at the bar or celebrating a special occasion with multiple courses, this is what a brasserie is meant to be.

Ingredient driven, guests can expect menus to change with the seasons. Featuring a custom wood burning grill, slow cooking over embers will have an influence on select menu items, bringing back a sense of luxury from the past, without pretense. Floor to ceiling café windows, white tablecloths, black and white tile floors, and servers in white tuxedo jackets will be the canvas. Expect brasserie classics such as Chilled Shellfish, Mibek Farms Steak Frites, Maine Blue Mussels "Billi Bi", and Keegan-Filion Chicken for two, to go along with more contemporary items such as Darling Farms Lamb with Vadouvan Curry and Spotted Skate Wing a la "Polonaise."

Henrietta's, designed principally by Workstead, is sure to become an institution, named for the street on which it sits and also the name of Mendel Rivers' mother. While modeled after the traditional brasserie in spirit, it presents a fresh take on all of the elements that create a classic, timeless restaurant. Wood veneer panels surround the entire space, and are crafted from Mahogany to include deep rounded reveals, echoing the rounded details that can be found at many scales throughout the hotel. The floors are composed of a classic white and black concrete tile pattern in the dining room and wood tiled floors in the bar, while the ceilings are composed of caned panels with mahogany trim. The furniture includes custom stools by Lawson Fenning, chairs by Thonet, and built-in 'Henrietta's Pews.'

Once upon a time a large 150-year-old Water Oak loomed boldly over Charlotte Street at the former L. Mendel Rivers Federal Building. Mother Nature and Father Time took their respective toll. John Dewberry's desire to grant the tree a future while celebrating its past led to a partnership with Born Again Heartwoods' Bill Long and Justin Herrington resulting in this stunning sculpture. A great space for semi-private, outdoor seating for small to medium sized groups.

Hours of Operation
Breakfast: 7:00 a.m. – 11:00 a.m.
Lunch: 12:00 p.m. - 2:30 pm
Dinner, Sunday - Wednesday: 5:30 p.m. - 10:00 p.m.
Dinner, Thursday – Saturday: 5:30 p.m. – 11:00 p.m.


The Living Room
With its timeless style and old world sophistication, The Living Room at The Dewberry is designed with function and form in mind. Have a morning meeting, send an email, a mid-day custom Dewberry Tea, or in the afternoon enjoy a classic cocktail at the bar, The Living Room is meant to be inviting and serve the needs of any part of your day. In the evenings, the all brass bar serves a cocktail menu focused on dark spirits and is comprised almost entirely of stirred drinks; as much a look back as it is a step forward. Complimented by a menu of small plates, The Living Room is the perfect place to meet friends before dinner so stop by and see Ryan Casey, the bar manager, make beautiful drinks and do amazing things with ice.

The furniture is an eclectic mix of Danish mid-century modern antiques found at auction by StudioDews' John Dewberry and Jaimie Brown, new pieces from Lawson Fenning in Los Angeles, and one-off designs created by Workstead with Mr. Dewberry. The pieces vary in distinctive styles and materials, but are linked by their domestic sense of scale. The ceiling lights are scooped plaster, inspired by the Italian Modern icon Villa Necchi Campiglio in Milan, Italy. The floor was salvaged by Mr. Dewberry from a tobacco barn in Virginia. The columns are clad in antique mirrors with lighting by Urban Electric. The table and floor lamps are modern interpretations of Paul Mayen lighting examples from 1960s London. The bar is a tailored and self-contained brass object, with an integral canopy, mirrors, and respective signage. The wooden bowls, made by woodwork artist Hugh Jeffers, and are from the knots of a 150-year-old white oak tree formerly located right outside the doors of The Dewberry on Charlotte Street.

Hours of Operation
Morning service begins at 7:00 a.m.
Lounge service: 12:00 p.m. – 12:00 a.m.


In-Room Dining
24 hour room service.

Hours of Operation
Breakfast: 6:00 a.m. – 11:00 a.m.
All day service: 11:00 a.m. – 11:00 p.m.
Overnight service: 11:00 p.m. – 6:00 a.m.


Complimentary Coffee Cart
Served in the hotel lobby.

Hours of Operation
5:00 a.m. – 7:00 a.m.