The Drake Hotel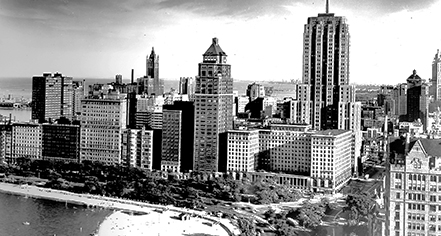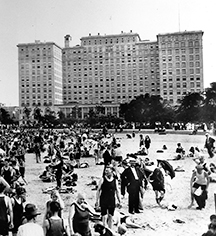 History
Conceptualized by famed architect Benjamin Howard Marshall, The Drake Hotel came to fruition when John B. Drake and Tracy Corey Drake financed the project in 1919. The doors of The Drake Hotel opened on New Year's Eve the following year to 2,000 of Chicago's most distinguished citizens.
Throughout the Roaring Twenties, The Drake Hotel became high-society's first choice in opulence. The Fountain Court, now known as the Palm Court, hosted Chicago's social elite daily for Afternoon Tea—a beloved daily tradition that remains popular at The Drake Hotel today. The reputation of the illustrious urban resort continued to rise well into the 1930s, seemingly unaffected by the Wall Street Crash of 1929. Icons such as Bing Crosby, Walt Disney, George Gershwin, and Charles Lindbergh could be seen sipping a cocktail and listening to Herbie Kay in The Gold Coast Room.
In 1932 the Cape Cod Room became Chicago's first choice for fresh fish and seafood and the nation's first themed restaurant. Twenty years later, seen laughing over drinks, newlyweds Marilyn Monroe and Joe Dimaggio would carve their iconic initials into the bar's world famous wooden counter.
On December 6th, 1933, the day after prohibition was repealed, Coq d'Or opened to the favor of thirsty patrons eager to purchase a 40 cent whiskey. In the 1940s it became a local hangout for reporters, politicians, and even some notorious characters, though it never lost the true Chicago crowd.
In 1940, The Drake sign was illuminated solidifying the hotel's rightful place in the most internationally recognized skyline. The 40s proved to be a decade of colossal change, both at The Drake and around the world. The Palm Court changed seasonally to accommodate the changing palate of the sophisticated patrons. In the winter, to set the holiday tone, the fountain was replaced with a 2,000-pound fireplace. In the summer, to get the cool lake breeze, the ceiling was open and the fountain was filled with fresh water.
Throughout the 50s and 60s the political and social climate of Chicago was evolving and The Drake was inclined to develop alongside the city. By the 1970s the John Hancock Center towered over The Drake, providing a frame of evolution for the half-century hotel.
In 1980 Hilton International acquired The Drake Hotel and restored it to its former glory. The Drake Hotel guests see today provides the grandeur of the past and accommodations fitting for today's high society.
Though The Drake has progressed both architecturally and technologically, the roots of The Drake Hotel run deep beneath Lake Shore Drive into Real Chicago.

The Drake Hotel, a member of Historic Hotels of America since 2016, dates back to 1920.