The Drake Hotel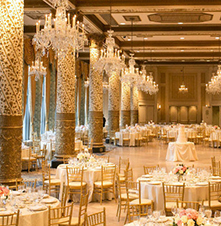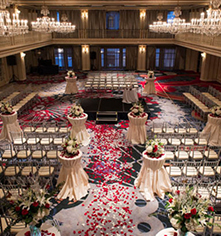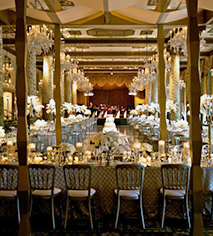 Weddings
The Drake has received unparalleled acclaim for arranging the most decadent fetes in the world. Today, the specialties of The Drake Hotel's catering professionals continue to impress visitors and natives of Chicago alike. Whether you are planning an intimate ceremony attendees or a lavish celebration with 600 guests, this romantic downtown Chicago hotel can provide the setting, staff, and special touches that will ensure a memorable wedding celebration.
In 1924, HRH the Prince of Wales initiated The Drake Hotel's lasting tradition of serving as the Chicago home for the British royal family. The property remains the quintessential Chicago residence of American Presidents and A-list celebrities. So, whether the plans include a large-scale event with a hundred guests, intimate nuptials with close friends and family, or something in between, a wedding at The Drake is destined to endure for all time as an experience to remember.
View The Drake Hotel Wedding Brochure
Gold Coast Room
The glorious 6,838 sq ft Gold Coast Ballroom overlooks stunning Lake Michigan. At nearly the same size as Buckingham Palace's Balloom, The Drake Hotel's Gold Coast Ballroom is fit for any regal occasion. The largest of The Drake's ballrooms, this space can accommodate up to 900 guests.
Capacities
| Width | Length | Height | Ceremony | Banquet | Reception |
| --- | --- | --- | --- | --- | --- |
| 52.6' | 130' | 19.6' | 495 | 100-500* | 900 |
*depending on table size
Grand Ballroom
The Grand Ballroom was originally built in the roaring twenties for The Charleston craze: the floor is literally equipped to put a spring in your step. The Grand Ballrooms luxuriously appointed 5,214 sq ft interior is akin to walking into history—modernized. The Grand Ballroom overlooks Walton Street and is outfitted for a live band and second story photography—a spacious setting for an intimate wedding.
Capacities
| Width | Length | Height | Ceremony | Banquet | Reception |
| --- | --- | --- | --- | --- | --- |
| 56' | 93.1' | 19.6' | 475 | 80-360* | 500 |
*depending on table size
The French Room
Experiencing many changes over the years, now the most intimate ballroom, The French Room was originally The French Restaurant. The French Room's hand-crafted ceiling and hand-painted column molding complement the silk wall coverings, crystal-basket ceiling chandeliers, satin damask draperies, and custom carpet. Situated directly next to The Gold Coast Ballroom, The French Room boasts the same stunning views of Lake Michigan and Oak Street Beach.
Capacities
| Width | Length | Height | Ceremony | Banquet | Reception |
| --- | --- | --- | --- | --- | --- |
| 55' | 72.6' | 10.4' | 198 | 50-260* | 350 |
*depending on table size