The Edgewater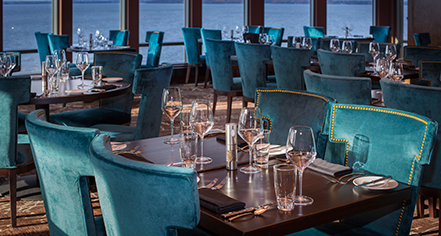 Dining
Dining at The Edgewater encompasses everything from a great burger and a pint of local beer on the boat dock to a special dinner with a panoramic view of Lake Mendota. The hotel offers two impressive bars that serve the best Wisconsin beers and other craft selections, as well as offering classic cocktails and an extensive wine list. The Edgewater is pleased to serve hotel guests, visitors, and Madisonians alike the finest and freshest ingredients, all with the authentic hospitality.
Join The Edgewater for a memorable lunch or dinner at signature restaurant, The Statehouse, or simply stop in to catch the sunset over Lake Mendota while enjoying a cocktail at the bar. Guests will be comfortable in the inviting dining room and regaled by gorgeous views of the lake and surrounding area. The beautiful restaurant serves regionally sourced, modern American cuisine. The Statehouse Bar offers classic cocktails with new twists, an extensive wine list, and of course, the best Wisconsin craft beers.
The Icehouse, located below The Plaza, is the perfect spot to grab food and experience the plaza. Offering a variety of options, The Icehouse invites guests to take a break from the day's activities, and enjoy a quick bite to eat.
The Boathouse provides a casual waterfront dining experience that welcomes visitors whether they travel by car, foot, or boat. Located at the base of the historic Langdon building, it's quite literally on the shoreline of Lake Mendota, with a dock at its front door, and is ideal for an afternoon or evening visit with friends or family. Offering indoor and patio seating and serving great food, beers from the best breweries in Wisconsin, and other refreshing drinks, The Boathouse invites guests to enjoy a fun meal or a drink on the patio, before heading off on another adventure.
The Café at The Edgewater is a comfortable spot to order a cup of coffee and a bite to eat while relaxing on inside or outside on the patio in warmer weather. The Café serves pastries and light fare, as well as coffee and espresso drinks, all day.