Gettysburg Hotel, Est.1797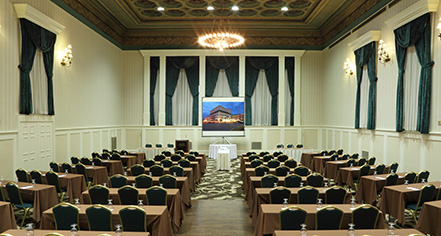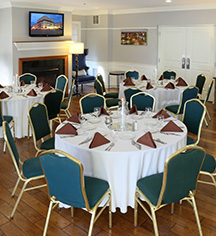 Meetings & Groups
Gettysburg Hotel, Est. 1797 offers a historically elegant backdrop with a refreshingly modern layout, versatile and functional for meetings, events, and small conferences. Grand Ballroom is formerly the Gettysburg National Bank, built in 1814, and compliments the additional three versatile meeting spaces, each bearing the name of a famous visitor of the past. The rooms can be set up to accommodate a wide variety of events. The ballroom features 28-foot hand-painted ceilings with rich, velvet draperies and 19th century chandeliers and lighting fixtures. This room offers elegance and the romance of the past as an exciting backdrop for any type of event.
Gettysburg Hotel is the ideal destination for a meeting or business event as it is located in the heart of downtown Gettysburg on Lincoln Square and is within walking distance of shops, galleries, and numerous historic attractions. Click here to view the Floor Plan and Capacity Chart.
Grand Ballroom
The Gettysburg National Bank, built in 1814, is now the home of the historic Grand Ballroom. This space features 28-foot hand-painted ceilings accentuated with sweeping velvet draperies and 19th Century chandelier and sconces. The motif will bring your event all the grandness of soirees from days gone by.
Thaddeus Stevens Room
Named after a 19th century guest whose law office was housed here, this room features large inlaid windows which allow plenty of natural light resulting in a grand sense of space.
Dwight D. Eisenhower Room
Named after the president who held many social and business meetings within Gettysburg Hotel, this room is defined by its stately windows and versatility. The room can be divided with a retractable wall into two distinct spaces providing additional versatility and multiple options depending on the needs for the event.
Daniel Webster
A great orator, Daniel Webster was another visitor to Gettysburg Hotel. This room is designed for smaller, more intimate meetings of up to 40 guests.