The Graham Georgetown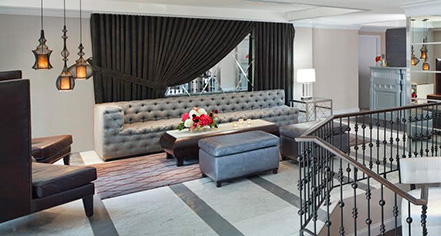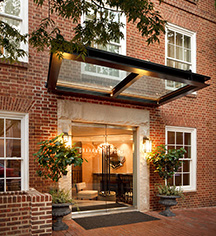 History
The Graham Georgetown was originally built in 1962 and known as the Hotel Monticello. After undergoing a multi-million dollar renovation, it reopened in 2013 and was renamed to honor the inventor of the telephone, Alexander Graham Bell. Throughout his life, Bell sought to improve the lives of others, like the hearing-impaired, as an educator and inventor. His work led him to become one of the founders of the National Geographic Society. The Graham Georgetown was updated to reflect his values of constant innovation, functional invention, and timeless intelligence. Those updates include increasing the number of guestrooms from 38 to 57, including 30 one-bedroom suites, a fitness center, and two restaurants. The space also features a much loved 200-square foot rooftop lounge and 3,000-square foot outdoor deck.
Situated in one of DC's most affluent neighborhoods, The Graham Georgetown features a traditional Victorian look with functional modern amenities such as Empire sofas, chrome accents, and oversized baths. The hotel is a hub for both world leaders and proud parents of local university students seeking respite from the lights and sounds of the city. Located on a quiet road, guests are just a short walk away from the scenic Potomac River and the bustling shopping of M Street. The Graham is where timeless luxury and sophistication meets contemporary comfort. All guestrooms on each of the seven floors feature down duvets, L'Occitane bath products, and 42-inch televisions.
The Graham Georgetown is nestled away in a residential area that provides guests with the neighborhood feel of home but is only minutes away from bustling streets full of shopping, adventure, and fantastic views. The location is ideal for parents visiting their children at any of the nearby universities and provides respite for young professionals and couples as well. Historic universities abound in the area, such as Georgetown University and George Washington University. Museums that feature beautiful gardens and expansive historic collections of literature and art such as the Textile Museum and Dumbarton Oaks are nearby. For those seeking authentic cuisine of France, Italy, and more, nearby restaurants such as El Centro D.F., Farmers Fishers Bakers, and Chez Billy Sud will satisfy any appetite.
The Graham Georgetown, a member of Historic Hotels of America since 2018, dates back to 1962.