The Heathman Hotel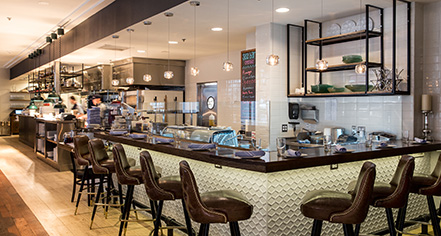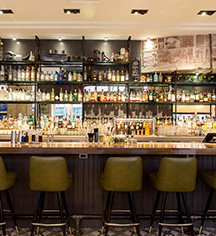 Dining
Headwaters is located in the historic Heathman Hotel in Downtown Portland. In October 2016 after a dramatic renovation, chef/owner Vitaly Paley, his longtime wife/partner Kimberly Paley, and Garrett Peck opened the reimagined dining room at the Heathman Hotel, their fourth Portland restaurant. The property, which possesses a storied culinary history, was constructed in the early 20th century and is a member of the National Historic Register.
So named for "the source," Headwaters showcases local ingredients from Oregon's diverse bounty, from farm to sea. The approachable menu is an expression and collaboration between Vitaly Paley and Executive Chef Tim Eckard with Pacific Northwest flavors flowing throughout.
Designed by CBT Architects, the vibrant and bustling space opens to SW Broadway, centers around the open kitchen designed by Paley, and boasts a large hearth and raw bar. The chefs pay homage to the rich history of the location, reviving the iconic tea court, adding a Russian flare that speaks to Paley's own heritage, with a bit of inspiration pulled from his notable pop-up DaNet, illustrating pre-Soviet Russian cuisine.
Chef Vitaly Paley is the third James Beard Best Chef Northwest winner to take the helm of the Portland institution, a long running dining destination in the Pacific Northwest. Headwaters will showcase Paley's renowned cooking, which helped him earn Portland Monthly's 2012 Chef of the Year and a 2012 Empire Builder Award by Food & Wine. Chef Paley also received the 2005 James Beard Foundation Best Chef Pacific Northwest award, was nominated as a 2012 and 2013 James Beard Foundation Semifinalist for Outstanding Chef, and was a victor on Food Network's popular series Iron Chef America. Paley, considered the Dean of Portland Chefs for many years, rediscovers Pacific Northwest culinary pathways and follows the footsteps of Oregon's own James Beard.
One of the most anticipated restaurant openings of the year, Headwaters has been featured in the Wall Street Journal, Sunset Magazine, Bon Appétit Magazine, The Oregonian, Portland Monthly Magazine, and Oregon Public Broadcasting's Think Out Loud.
Hours of Operation

Breakfast: Monday to Friday, 6:30 a.m. – 11:00 a.m.
Lunch: Monday to Friday, 11:00 a.m. – 2:00 p.m.
Dinner: Monday to Thursday, 5:00 p.m. -10:00 p.m. | Friday & Saturday, 5:00 – 11:00 p.m. | Sunday, 5:00 p.m. – 10:00 p.m.
Happy Hour: Monday to Friday, 2:00 p.m. – 6:00 p.m. | Saturday & Sunday, 3:00 p.m. – 6:00 p.m.
Late Night Happy Hour: Monday to Thursday, 10:00 p.m. – 11:00 p.m. | Friday & Saturday, 11:00 p.m. – 12:00 a.m. | Sunday, 10:00 p.m. – 11:00 p.m.
Weekend Brunch: 8:00 a.m. – 3:00 p.m.