The Heathman Hotel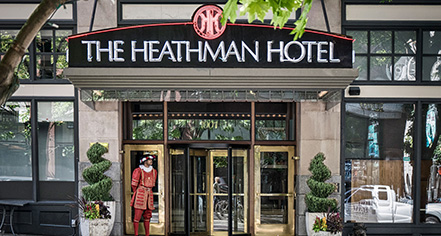 History
The history of the city of Portland began rather inauspiciously in 1842 when William Overton and Asa Lovejoy beached their canoe on the banks of the Willamette River. Thet two men agreed that the 640-acre plot of land would be ideal for the establishment of a town and subsequently filed a claim on the land. Soon after, Overton sold his share to merchant and pioneer Francis Pettyjohn for $50.

This new town began to grow as other merchants and pioneers flocked to the area. Residents and passersby had several nicknames for the town, including "Stumptown" in reference to the numerous tree stumps that were left behind after trees were hastily cut down to make way for the citys rapid growth. "Stumptown" remains one of Portland's nickanmes to this day.

However the town soon needed an official name. Pettyjohn was a native of Portland, Maine and Lovejoy was born and raised in Boston, Massachusets. Both men wished to name this new town after thier respective hometowns and could not agree to a compromise. Over dinner on one evening in 1845, they decided to flip a coin to determine who would have the authority to name the growing town. After three tosses of a penny, the decision was made and Portland had a name.
Portland's early years were full of lively characters, such as Sweet Mary, the madam of the town's floating bordello, and Joseph "Bunco" Kelly, a notorious hotelier who intoxicated local young men and sold them to ship captains in need of crew members. The turn of the last century ushered in an era of considerably more respectability and prosperity. The burgeoning lumber mills made millionaires out of men like Simon Benson, who personally commissioned twenty elegant drinking fountains for the downtown area when he discovered his workers were imbibing alcohol during the day, due to a lack of fresh drinking water.
The Heathman Hotel has remained a cultural fixture since opening in 1927, welcoming travelers to Portland with timeless hospitality bound in tradition and a rich appreciation of the arts. Today, nearly a century later, the Heathman has begun a new chapter under a gleaming renovation that pays homage to the city's beloved history and the hotel's role as muse to generations of travelers.
The Heathman Hotel, a member of Historic Hotels of America since 1991, dates back to 1927.