The Hermitage Hotel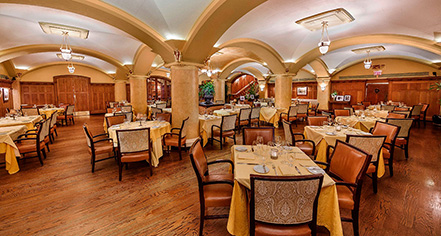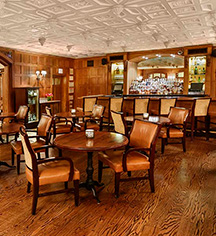 Dining
Capitol Grille
Chef Tyler Brown has made the Capitol Grille at The Hermitage Hotel, a destination for locally sustainable, elegant Southern cuisine. The ingredients are grown and harvested at Double H farms, just four miles from the AAA Five Diamond Hotel. Chef and "Farmer" Brown plants and harvests the ingredients such as heirloom tomatoes, squash, lettuce, okra, beans, etc. himself. Red Poll cattle graze on the grass and provide delicious milk and beautifully marbled beef. Managing Operator of The Hermitage Hotel, Greg Sligh, oversees the farm, along with Tyler and the rest of The Hermitage Hotel and Capitol Grille Team. This dining establishment may just be one of the finest examples of sustainable cuisine in Nashville, if not, all of Tennessee.
Hours of Operation
Breakfast, 6:30 a.m. - 11:00 a.m.
Lunch, 11:30 a.m. - 2:00 p.m.
Dinner, 5:00 p.m. - 10:00 p.m.

Oak Bar
Kick back and enjoy a beverage or casual meal at the Oak Bar, next door to the Capitol Grille. A daily happy hour between 4:30 p.m. and 6:30 p.m. is a favorite, not only with hotel patrons, but local regulars.
Hours of Operation
Monday - Saturday, Opens at 11:30 a.m.
Sunday, Opens at 12:00 p.m.

In-Room Service
Fine dining from the Capitol Grill or casual fare is available 24-hours a day.