The Hermitage Hotel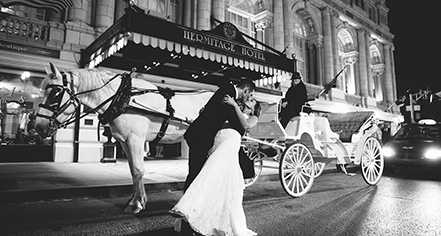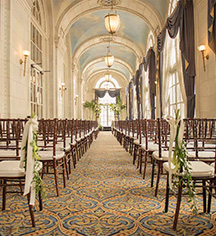 Weddings
Over the last century, The Hermitage Hotel has been a dream destination for many brides in Nashville, Tennessee. In fact, it has even become something of a tradition for families to pass down through the generations. With the assistance of an award winning culinary team, a stunning architectural backdrop, and help from the event staff, this historic Nashville hotel will create a memorable day for the history books.
Explore Wedding Venues at The Hermitage Hotel
The Grand Ballroom
This piece-de-resistance of The Hermitage Hotel offers 2,500 sq ft of unobstructed space, an ornately painted ceiling, Russian walnut paneling, and has a capacity of 30-200 for a seated dinner and 30-300 for a reception.
The Veranda
This room really encapsulates the feel of the historic Hermitage Hotel and the metropolitan feel of the city with a view overlooking Sixth Street. The room seats 30-90 guests and for a standing reception, 30-300.
State Room
An elegant boardroom with state-of-the-art technology, ergonomic, high-backed leather chairs, and multiple phone lines with a maximum capacity of 12 people.
Governors Salon
Suited for business needs and located on the mezzanine level, this room is suited best as an office, security, or communications center. Capacity of the room is 10-30 for a seated dinner and 10-40 for a standing reception.
Performing Arts Suite
A popular room, sought out for board meetings, breakout sessions, private dinners, and media events with a capacity of 10-40 for a seated dinner and 10-50 for a standing event.