The Hotel Congress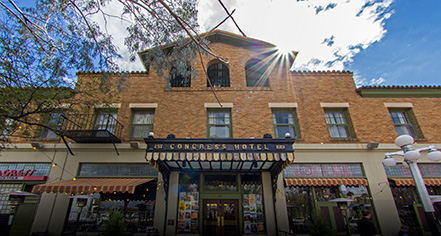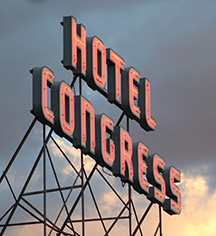 History Mystery
Which historic hotel was the site of John Dillinger and his gang's capture after a fire in 1934 blew the cover off this hideout?
If you guessed The Hotel Congress (1919) in Tucson, Arizona, you guessed correctly!
The hotel is known for being the site of the capture of bank robber, John Dillinger, in 1934. After a series of bank robberies in the Midwest, the Dillinger Gang arrived in Tucson to hide out. On January 22, 1934, a fire started in the basement of the hotel and spread up to the third floor, where the gang resided under aliases. After the desk clerk contacted them through the switchboard, the gang escaped via fire department ladders. By request of the gang, two firemen retrieved their overly heavy luggage, and later identifying who they were, which led to their capture without incident. Since 1994, the Hotel Congress has celebrated the capture of the famed bank robbers with a weekend of special events and reenactments each January.

Learn more about The Hotel Congress and book your next stay.