The Hotel Northampton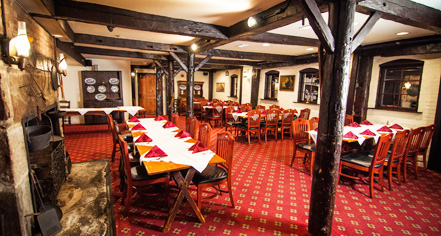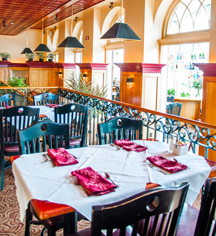 Dining
Come one, come all! Step back in time to more than 200 years ago upon entering Wiggins Tavern. The building dates back to 1786 and was opened by Benjamin Wiggins, an ancestor of Hotel Northampton founder, Lewis Wiggins.
Wiggins Tavern
The building may be old, but the food is fresh and serves up fine cuisines such as filet mignon, pan-seared salmon, baked stuffed shrimp (which is rumored to have originated at Wiggins Tavern), and many other dishes in this fine-dining atmosphere. For reservations, please call 413-584-3100.
Menus
Sunday Brunch
Tavern Menu
Hours of Operation
Sunday Brunch 10:00 AM - 2:00 PM
Dinner Tuesday - Saturday 5:00 - 10:00 PM
Coolidge Park Cafe
Offering seasonal outdoor dining, the Coolidge Park Café serves guests every meal they'll need throughout the day. The menu includes dishes such as salads, sandwiches, and various entrées. Kcik back with a tasty cocktail from the extensive martini and wine list while overlooking downtown Northampton.
Menus
Breakfast
Cafe Menu
Hours of Operation
Breakfast 7:00 AM - 10:00 AM
Lunch 11:00 aM - 5:00 PM
Dinner 5:00 PM - 10:00 PM