The Hotel Northampton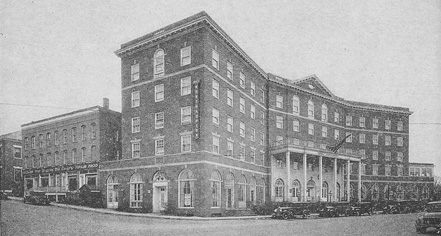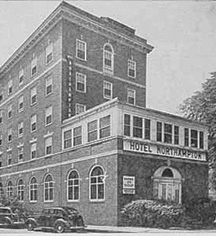 History
Entrepreneur Lewis Wiggins had an aversion to the popular Art Deco style of the early 20th century. He wanted to preserve Northampton's colonial history and therefore, erected a revival style hotel on the corner of Main and King and furnished it with antiques he had meticulously acquired over the years and continued acquiring. His goal was to achieve museum status for his hotel's funishings. Many of these antiques still grace the hallways of the historic and charming Hotel Northampton.
By 1937, Wiggins employed a full-time antiquarian curator with a staff of up to 15. Two of the staff members were dedicated to simply mingle with guests and discuss the hotel, its history, and its antiques.
Ever the entrepreneur, Wiggins wanted a way to expand the hotel's dining facilities as well as offer a "greater entertainment to my guests." Wiggins then purchased the next-door Moriarty building. He was determined to build the ultimate antique: "to construct faithfully an Early Americna Tavern with the atmosphere and appearance of an old tavern as it was in the days of our ancestors."
Lucky for Wiggins, he had such an ancestor; Benjamin Wiggins, about 141 years prior, opened Wiggins Tavern in Hopkinton, New Hampshire. In the tavern's heyday, Benjamin Wiggins established a reputation with both travelers and area residents for the finest food and spirits in the region.
Lewis Wiggins decided to go through with the painstaking process of moving the old tavern to the Hotel Northampton. Of course, meticulous attention to detail was taking in reassembling the tavern in its new home. Carved paneling, hand-hewn beams, and stone and brick hearths were all carefully reconstructed. Antiques from both the original tavern and from other parts of New England were laboriously collected to finish the restoration of the interior. Today, the tavern remains largely true to the drinking culture of old, two hundred years ago when Ben Wiggins greeted his guests at the door and served them his famous American fare and baked goods.
In its 200 years of service, Wiggins Tavern has been host to visitors from all over the world. Among the many travelers who have stopped here for a hearty, filling meal are Eleanor Roosevelt, Jenny Lind, Herbert Hoover, Calvin Coolidge, Dwight Eisenhower, John F. Kennedy, and Richard Nixon.
During World War II, U.S. Navy Waves billeted at Smith College were marched down Main Street three times a day for their meals at Wiggins Tavern. According to one of the Waves, there were two great things about being stationed in Northampton: "You survived the war, and you got to eat at Wiggins Tavern."

The Hotel Northampton, a member of Historic Hotels of America since 1991, dates back to 1927.