The Hotel Roanoke & Conference Center, Curio - A Collection by Hilton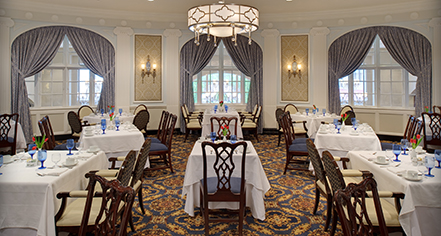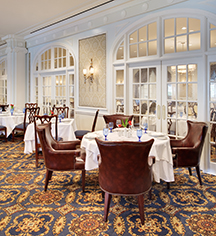 The Regency Room
Opened in 1938, The Regency Room has remained at the heart of the Roanoke social and cultural life. The restaurant, under the direction of Executive Chef Stephen DeMarco, features French-inspired Southern cuisine and is open year-round, including holidays. With a seasonal menu, live entertainment, and an opportunity to sample what southwestern Virginia has to offer, The Regency Room ensures every experience is memorable.
The Regency Room is extensively involved in a "shop local, buy local" mentality, working with a Floyd County cooperative called Good Food, Good People, which helps business owners to purchase produce from area farmers. The foods are picked to order and delivered within 24 hours. The Regency Room has worked with local growers for more than six years, purchasing mostly locally grown fruits and vegetables.
The Regency Room features entertainment on Friday and Saturday nights.
Hours
Breakfast
Lunch
Dinner
Grand Buffet Brunch
Monday - Friday
6:30 AM - 10:30 AM
Saturday & Sunday
7:00 AM - 10:30 AM
Monday - Saturday
11:30 AM - 2:00 PM
Monday - Thursday
6:00 PM - 9:00 PM
Friday & Saturday
6:00 PM - 10:00 PM
Closed Sunday
Sunday
11:30 AM - 2:00 PM