The Hotel Viking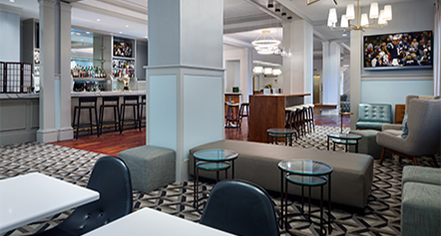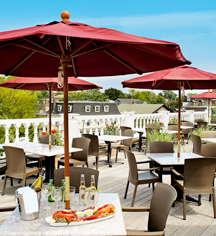 Dining
Award-winning cuisine, carefully selected wines, and handcrafted cocktails await diners at One Bellevue Restaurant and Top of Newport Bar at The Hotel Viking. For those wanting to soak in the splendor of the luxurious guestrooms and suites, in-room dining is available from 7:00 a.m. to 10:00 p.m.
One Bellevue Restaurant
Enjoy top-notch cuisine prepared by Executive Chef Barry Correia, who is at the forefront of the healthful gourmet cuisine movement in the United States. An award-winning wine list complements the foods in a sophisticated, yet welcoming atmosphere.

Afternoon Tea
Relax with a spot of tea, sandwiches, and house-made scones after a day of viewing historic mansions, a day at the beach, or playing tennis at the Tennis Hall of Fame courts.
Menus
Breakfast | Breakfast Buffet | Lunch | Dinner | Dessert
Lounge | Beverages | Wine List | Afternoon Tea
Hours of operation
Breakfast, 7:00 a.m. - 11:00 a.m.
Lunch, 11:00 a.m. - 4:00 p.m.
Afternoon Tea, 2:00 p.m. - 4:00 p.m.
Dinner, 5:00 p.m. - 10:00 p.m.
Top of Newport Bar
Open Memorial Day through Labor Day, the top of the roof at The Hotel Viking offers great views, specialty cocktails, and a raw bar menu.
Hours of operation
Tuesday to Thurday, 4:00 p.m. - 10:00 p.m.
Friday and Saturday, 2:00 p.m. - 10:00 p.m.