The Hotel Viking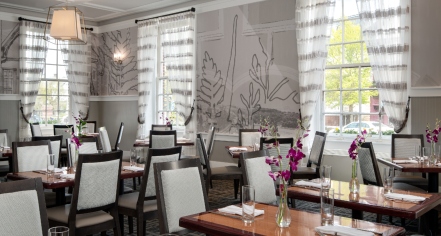 Dining
Award-winning cuisine, carefully selected wines, and handcrafted cocktails await diners at One Bellevue Restaurant and Top of Newport Bar at The Hotel Viking. For those wanting to soak in the splendor of the luxurious guestrooms and suites, in-room dining is available from 7:00 a.m. to 10:00 p.m.
One Bellevue Restaurant | Menu
Flavor and freshness define the boutique American dinner bistro that is One Bellevue. Experience modern, as well as traditional, culinary treasures from the sea and land on a healthy and inviting menu. Attentive service, sophisticated surroundings, an assortment of wine selections, creative cocktails, and locally sourced ingredients from the award-winning culinary team identify the feel of this unique Rhode Island dining destination. At One Bellevue, menu highlights include the signature One Bellevue Stew, Handmade Ravioli, and Duck Breast with Hen of the Woods Mushrooms, all paired with a luscious selection from the advanced wine list. Come and enjoy Newport's hidden gem for your dining and entertainment cravings today.
Hours
Breakfast, 7:00 a.m.-11:00 a.m.
Lunch, 11:00 a.m.-5:00 p.m.
Afternoon Tea, 2:00 p.m.-4:00 p.m.
Dinner, 5:00 p.m.-9:00 p.m.
Afternoon Tea
"There are few hours in life more agreeable than the hour dedicated to the ceremony known as afternoon tea." - Henry James, The Portrait of a Lady
Sunday Jazz Brunch
Listen to strolling, live jazz with brunch specials such as Pork Belly Benedict and Crab Crepes with hand-crafted cocktails; featuring a new jazz artist each month. Brunch is served from 7:00 a.m.-3:00 p.m., with live jazz from 11:00 a.m.-3:00 p.m.

Paws on the Patio
Hotel Viking recently became pet-friendly, and now guests can dine with their dogs on the One Bellevue Patio. Enjoy breakfast, lunch, or dinner with a furry friend - there is even a special menu for them, too.
Top of Newport Bar & Kitchen | Menu
It's a fun, convivial spot to have specialty cocktails and enjoy a selection of local seafood. Appetizers, salads, and sandwiches are available, including the ever popular Lobster Roll. Top of Newport Bar & Kitchen is now open for all of summer 2018. In addition to delicious rooftop bites, Top of Newport features daily specials and live entertainment. Enjoy stunning New England sunsets surrounded by views of gilded-age mansions and boats on the marina.
Hours
Monday - Saturday, 11:00 a.m.-10:00 p.m.
Sunday, 11:00 a.m.-8:00 p.m.