The Hotel Viking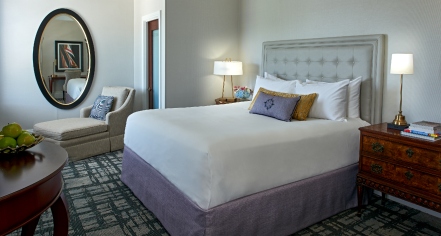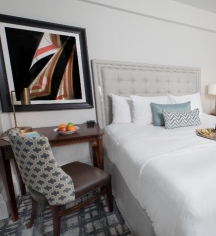 Guestrooms
The Manor Guestrooms
Get swept away in the romance of these rooms with beautiful period-inspired furniture and the décor of Newport, Rhode Island's Gilded Age. Guestrooms feature built-in cherry wardrobes, and beveled glass doors lead into the bath with large rain head showers. Guestrooms are between 150 to 200 sq ft with a queen-size bed and a flat-screen LCD TV.
Newport Guestrooms
These guestrooms were added to The Hotel Viking in the 1960s and offer a nod to the Progressive Era with rich textures, subtle hues, and generous elements of progressive décor, while still offering the modern luxuries and technologies of the 21st century. Guestrooms are 310 sq ft and offer either a king-size or two queen-size beds.
Estate Guestrooms
Fashioned after the Gilded Age, these guestrooms are located in the original wings of the hotel and offer guests an authentic piece of Newport history. Guestrooms are 300 sq ft and offer a king or queen-size bed.
Estate Fireside Guestroom
In the original wings of the hotel, these guestrooms are an authentic piece of Newport history. Inspired by the Gilded Age, these 325 sq ft rooms are fashioned in rich fabrics and textures.
Premier Guestrooms
These oversized, spacious accommodations at The Hotel Viking are elegantly furnished in the style of an English country inn. Guestrooms are 430 sq ft and include large fabric drapes that dreamily separate the sleeping from the living area, and marbled baths for luxurious touches of grace.