The Inn at Death Valley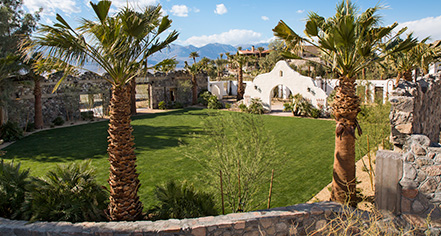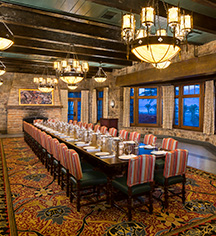 Weddings
The newly constructed Mission Gardens provides a beautiful and serene location for wedding ceremonies right next door to the Inn. After the ceremony, guests can enjoy drinks at Mission Gardens while the newlyweds take photos among the date palms in the Oasis gardens located adjacent to the Inn's spring-fed pool. Mission Gardens can also accommodate the reception depending on the number of guests.
Across the street at the Inn sits the beautifully redone terrace outside of the Inn Dining Room that can be sectioned off for all manner of private events. Featuring views of Mission Gardens below and the desert framed by the Funeral Mountains in the distance, the only thing standing in the way of a great conversation on the terrace are the breathtaking views.
The nearby Gold Rush Room, which overlooks the pool and has views of the valley and mountains, is an ideal venue for a reception. The Gold Rush Room offers 1,400 square feet and there are two wood-burning fireplaces. An adjacent outdoor terrace provides a perfect area for a private reception before dinner.
The Oasis Level in the main building offers another pleasant wedding/reception venue combining three tastefully decorated areas. Oasis Room offers 972 square feet of unobstructed space and has views of the desert and Funeral Mountains.
The Big Horn Room offers 500 square feet. The room features unique rock and mural walls and recessed cabinetry. It also has outside access.
The Inn Bar serves as an ideal pre-function area and has stairway access from the main lobby that can be used in combination with Oasis and Big Horn Room.


For more information or to make reservations, visit The Inn at Death Valley or call +1 800 236 7916.