The Martha Washington Hotel & Spa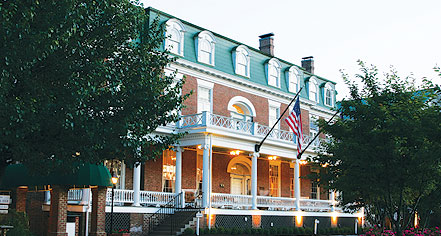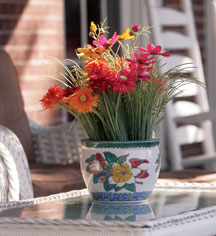 History
The Martha Washington Hotel & Spa, nicknamed "The Martha", was orginally constructed in 1832 at the cost of $15,000 as a retirement home for General Robert Preston, his wife, Sara, and their nine children after his service in the War of 1812.
Nestled in the Blue Ridge Mountains of Abingdon, Virginia, the structural integrity and architecture of this 180-year old building has been meticulously preserved over the years. The orginal living room of the Preston home now serves as the hotel lobby.
In 1760, legendary frontiersman, Daniel Boone named the area "Wolf Hills" after his dogs were attacked by a pack of wolves. In 1774, a man by the name of Joseph Black built Black's Fort to protect local settlers from Cherokee attacks, as they had allied with the British during the American Revolutionary War. In 1778, Black's Fort was incorporated and was renamed to Abingdon, supposedly after the name of Martha Washington's ancestral home.
The Preston residence was sold in 1858 for the price of $21,000 and converted to a women's college. For 70 years, it operated, through the Civil War and the Great Depression.
During the Civil War, students stepped into the role of nurses for wounded soldiers from both Yankee and Confederate sides. The campus served as a training ground for the Washington Mounted Rifles. Despite frequent skirmishes and property damage, the Martha Washington College survived into the twentieth century.
In 1984, The United Company invested millions of dollars in renovation to preserve, restore and enhance the original splendor of the architectural detail of the original building.
By 1932, the college had closed due to declining matriculation and the threat of typhoid fever.
For the next few decades, the property changed hands many times. At one point, the premises were used to house the actors and actresses appearing in theatricals across the street at Barter Theatre; Ned Beatty and Patricia Neal were among those that began their career in Abingdon.
In 1935, the property opened officially as a hotel and since then has played host to many of the century's best and brightest, including Jimmy Carter, Elizabeth Taylor, and Eleanor Roosevelt.
In 1984, the United Company bought The Martha Washington Hotel & Spa and began an extensive renovation, taking care to preserve as well as enhance the hotel's historic charms.

The Martha Washington Hotel & Spa, a charter member of Historic Hotels of America since 1989, dates back to 1832.
*****
Guest Historian Series
Read more about the history of The Martha Washington Hotel & Spa, as told by Historic Hotels of America 2014 and 2015 Historian of the Year Stanley Turkel. Excerpt is taken from his latest book Built to Last: 100+ Year-Old Hotels East of the Mississippi (AuthorHouse 2013).