The Mimslyn Inn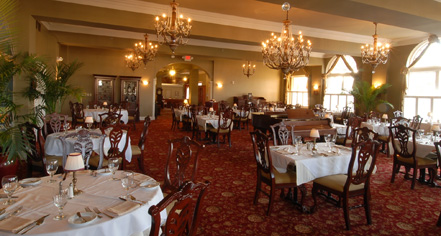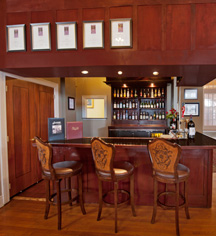 Dining
Come dine on old Southern classics as well as scrumptious, savory dishes characteristic of today made with locally sourced ingredients and seasonal produce complemented by an impressive wine selection.
Circa '31
A large spacious room off the lobby flooded with natural light from the floor-to-ceiling windows serving upscale classic Southern cuisine with a playful twist. Enjoy seasonal front porch dining, weather permitting, for breakfast, lunch, or dinner. Reservations are strongly encouraged and shirt and tie are recommended for dinner. Breakfast and lunch are casual.
Hours of Operation
Breakfast: Monday - Saturday 7:30 a.m. - 11:00 a.m.
Sunday: 7:30 a.m. - 10:30 a.m.
Sunday Champagne Brunch: 10:30 a.m. - 2:00 p.m.
Lunch: Monday - Thursday 11:00 a.m. - 2:00 p.m.
Dinner: Friday 5:00 p.m. - 10:00 p.m.
The Speakeasy Bar and Restaurant
Unwind with a night cap in this prohibition themed, Art Deco-inspired lounge with period music and a prohibition themed drink menu offering such cocktails with names like A Dancin' Fool, Hollow Cane, or Devil's Candy. Live music every Thursday sets a jovial ambiance to this Luray, Virgina treasure.
Hours of Operation
Monday - Thursday
3:00 PM - 10:00 PM
Friday and Saturday
3:00 PM - 11:00 PM
Sunday
2:00 PM - 10:00 PM
Entertainment Every Thursday
7:00 PM - 10:00 PM