The Mission Inn Hotel & Spa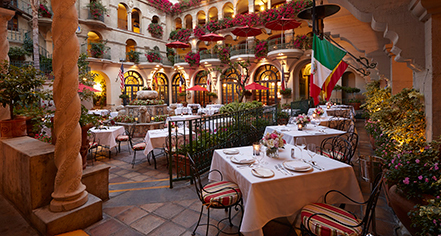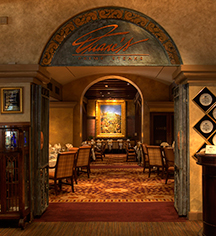 Dining
Duane's Prime Steaks and Seafood
Recipient of the AAA-Four Diamond Award since 1996, the Golden Baccus Award for outstanding wine selections, and most recently, Wine Spectator Best of Award of Excellence, Duane's exclusively offers wet-aged, USDA Prime cuts of steaks and the freshest seafood. The restaurant also boasts the perfect setting for celebrating any occasion.
The Mission Inn Restaurant
Famous for its award-winning Champagne Sunday Brunch event and lavish culinary offerings including various unique food stations and a mimosa bar, The Mission Inn Restaurant features a state-of-the-art display kitchen where chefs prepare signature California cuisine. The restaurant is decorated in colorful tiles, vaulted ceilings, ornate wall sconces and marble accents.
Las Campanas Mexican Cuisine & Cantina
Relish in the ambiance of Las Campanas and enjoy the restaurant's signature cocktails. Serving authentic Mexican cuisine creatively prepared using the freshest herbs and ingredients, the restaurant offers casual outdoor dining for lunch and dinner Monday through Saturday.
Bella Trattoria Italian Bistro
Enjoy sidewalk dining at its best at Bella Trattoria Italian Bistro. Bella Trattoria will tempt the palate with delicious Southern Italian cuisines including brick-oven baked pizzas, build-your-own pasta, and pressed Panini sandwiches. This restaurant was influenced by the authentic Italian cuisine which Duane and Kelly Roberts, owners of the Mission Inn, enjoyed while on their travels throughout Italy.
54 Degrees at Duane's
This interactive wine bar accompanies Duane's Prime Steaks and Seafood, building upon this steakhouse staple while offering a wide array of wines and tapas in a modern and sophisticated setting. Boasting over 28 wines by the glass and a wine cellar of more than 7,000 bottles, 54 Degrees is an edgier social setting featuring stainless steel accents and beautiful warm woods, which contribute to a relaxed, yet elegant vibe.
The Presidential Lounge
What was built originally as a Presidential Suite for President Roosevelt when he dedicated the initial structure in 1902, and next, the site of Richard Nixon's wedding in 1940, is now a bar and lounge called The Presidential Lounge. Open seven nights a week, the bar features a light dining menu as well as periodic live entertainment.
Casey's Cupcakes
An intimate 500 square foot confection boutique, Casey's Cupcakes features a fun, vibrant atmosphere and features delectable cupcakes. Made from the freshest ingredients in 20 delicious flavors, cupcake variations range from Decadent Dark Chocolate and Sassy Strawberry to Caribbean Coconut and Scrumptious Cinnamon Sugar.
Offsite Dining
Mario's Place is directly across the street from the inn and serves fine Italian cuisine. Sevilla's offers Latin food with dinner shows and a nightclub.