The Montvale Hotel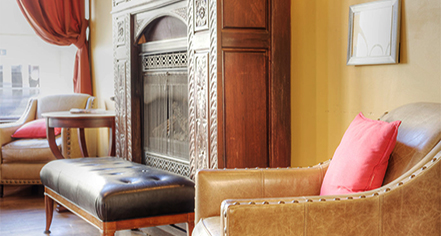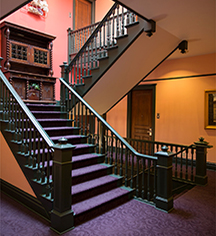 History
In 1899, Spokane judge John W. Binkley purchased two lots at First Avenue and Monroe Street and built a three-story red brick building. He named it Montvale Block, after Montvale Farms, his beloved country estate on the Little Spokane River. The Montvale offered street-level commercial spaces and two upper-level floors with 30 residential rooms on each floor; it was the first in a series of mixed-use buildings built along West First Avenue.
The Montvale Block was one of Spokane's first Single Room Occupancy (SRO) hotels, used as temporary affordable housing for the swelling influx of miners and laborers to the Spokane area at the turn of the century. The second and third floors share an identical floorplan and room configuration. Each floor had a common men's and women's shared washroom with two toilets, a washbasin, and a bathtub. Steam-heat was provided to each room via coal-powered steamers in the basement. By 1914, all residential rooms offered wall-mounted washbasins with hot and cold running water, built-in wardrobe closets, and furnished rooms. Room rates for typical turn-of-the-century SROs were advertised at $1 to $2 per week, or $5 a month. The Montvale was the cornerstone of a row of SROs built in the early 1900s that line the south side of West First Avenue for two blocks from Monroe to Jefferson Street.
At street level, there were six commercial bays that housed various service and mercantile enterprises over the years. The largest and longest-standing tenant was Kilmer and Sons Hardware. Beginning in 1911, they occupied the first four bays from the northeast corner of the building. Kilmer and Sons also used the building's basement for storage and even used some of the space as an emergency ammunition supply room during World War II. It was at Kilmer and Sons that a young man named Henry J. Kaiser worked for many years. After the death of Judge John W. Binkley in 1931, his daughter sold the Montvale Block to his close friend and longest-standing commercial tenant, William Kilmer of Kilmer and Sons, in 1936. Kilmer and Sons occupied the street-level space until 1967.
Sam A. Postell, owner of Postell Enterprises and the Towne Center Motel, purchased the Montvale Block for $125,000 in 1966. Under Postell's ownership, the Montvale operated as a youth hostel during the 1970s. During Spokane's Expo '74, the Montvale's single occupancy rooms were rented for $2 a night to the world's fair visitors. Until 1980, the Montvale Block served as an SRO for more than 80 years. It held a unique distinction in Spokane as one of the city's oldest, best-preserved, and longest functioning SRO. The upper-level floorplan and room configuration remained extant with few alterations. Postell sold the property to prominent Spokane business owner Werner Rosenquist in 1980 and under his ownership, the Montvale's upper floors suffered from broken windows, water damage, and general neglect.
A developer bought the property in 1996, and two years later, the building was listed on the National Register of Historic Places.
The elegant, 36-guestroom Montvale Hotel opened as Spokane's premier boutique lodging destination. As Spokane's only true historic hotel, the Montvale is known for its rich history and unique personality. Purchased by Ruby Hospitality in July 2015, a full renovation was recently completed, restoring the hotel to its original luster. With more dining options, parking, guestroom improvements, as well as a stunning lobby, the Montvale Hotel will continue to provide visitors with classic comfort in the years to come.

The Montvale, a member of Historic Hotels of America since 2012, dates back to 1899.