The Omni Homestead Resort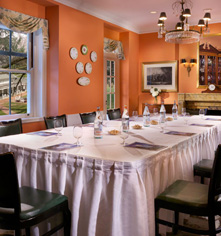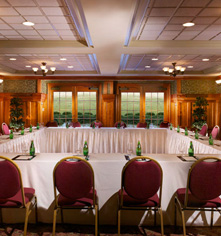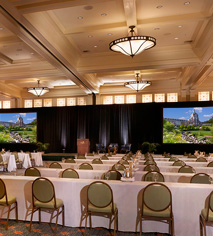 Meetings & Groups
Ideally situated within the Allegheny Mountains, The Omni Homestead Resort offers an inspired setting for any event or meeting, intimate or grand. For over 200 years, the resort has hosted productive, sophisticated events at its Virginia convention center surroundings for industries and events of all kinds. With over 72,000 square feet of venue space and 28 available rooms, the expansive conference and convention center is fully-equipped to accommodate business meetings, theme parties, picnics, small luncheons, intimate dinners, and large banquets complemented by exceptional service, beautiful catering, and state-of-the-art technical resources and conference amenities.
From the expansive Grand Ballroom and Regency Ballroom, to the elegant, two-level Commonwealth room with its hand-painted murals, The Omni Homestead's meeting spaces are as functional as they are beautiful. The Crystal and Empire rooms are well-appointed with stately columns and magnificent chandeliers, while the Tower Hospitality Suite provides ample and inspiring room for guests to collaborate, gather, and unwind in perfect comfort while enjoying spectacular mountain views.
For outdoor events, a variety of unique and memorable venues are available, including the Mountain Lodge and Cascades Golf Club, and the Outdoor Pavilion at the Shooting Club. Each of these memorable convention centers looks out onto the most spectacular views in the valley.
Capacity Chart
Room
Area
sq ft
Class
Theater
Banq
Conf
Sq.
U
Recep
Grand Ballroom
13,485
1,000
1,200
1,000
250
200
1,200
Mt. Vernon-Stratford
4,922
130
200
140
50
60
55
200
Mt. Vernon
2,053
60
100
80
30
40
34
100
Stratford
2,868
80
120
100
40
50
44
120
Commonwealth
7,225
250
650
456
50
75
55
450
Crystal
2,668
200
300
Empire
3,094
150
250
180
48
68
56
300
Dominion
1,624
72
100
80
32
40
32
80
Tower Suite
1,975
130
Regency Ballroom
10,368
650
1,000
900
158
140
1,000
Madison
390
16
Monroe
450
16
Wilson
443
16
Hunt
420
30
24
16
50
Georgian
1,716
90
160
100
32
42
32
120
Chesapeake
692
40
80
50
20
32
24
80
Lexington
692
40
80
50
20
32
24
80
Appalachian
775
35
50
50
28
38
32
50
Blue Ridge
1,178
50
80
60
48
50
45
60
Piedmont
1,178
50
80
60
48
50
45
60
Casino Lawn
1,200
2,000
Gun Club Pavilion
1,702
140
200
Mountain Lodge
3,479
120
200